2012 IFBB/NPC California Governor's Cup – Results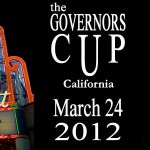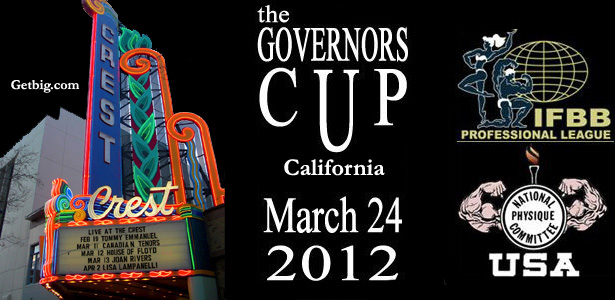 Three IFBB Pro contests were held here in Sacramento at the Crest Theater, including the first ever IFBB Pro Mens Physique contest, where the standards for the new division was set for the pros. Here are the contest results from the sold out event.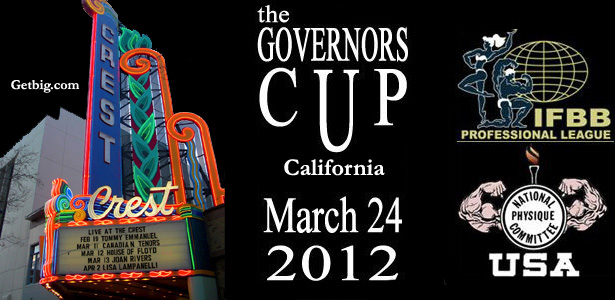 2012 IFBB California Governors Cup Pro Mens Physique Results
History was made here in Sacramento as the very first IFBB Mens Physique contest was held. Ten competitors made the trip, including some of the most noted names in the new division. Who would win? No one knew, because no one really understood what the judges would want? Would they want someone whos physique was shredded and hard, or someone who was muscular but soft? In the end, Matt Christianer took first over Alex Carneiro, who both looked spectacular. Miguel Aguilar and Bobby Ashhurst tied for third (points broke it) making for an interesting first contest. More muscular and a harder physique took the win, and what will happen in three weeks when the second pro mens physique contest is staged? My guess is that the competitors will all try to adhere to this new look. Here are the results
1. Matt Christianer – Scottsdale, AZ – 3
2. Alex Carneiro – Arvada, CO – 6
3. Miguel Aguilar – Temecula, CA – 10
4. Bobby Ashhurst – Scottsdale, AZ – 10
5. Dean Fazzolari – Keyport, NJ – 15
6. Deniz Duygulu – Coral Springs, FL – 17
7. Burton Hughes – Hobe Sound, FL – 21
8. Douglas Peaney – Perth Amboy, NJ – 25
9. Matthew Acton – Levittown, NY – 26
10. Francisco Sandoval aka Frankly Shredded – Redwood City, CA – 30
2012 IFBB California Governors Cup Pro Womens Physique Results
The judges did something that they have not done yet in other IFBB Womens Physique contests. They rejudged at night, and with that, Karin Kimura enged out Sara Hurrle here in Sacramento, which delighted and stunned the crowd here. Delighted because some felt that Sara came in softer at night, and that Karin deserved the win, and stunned others because they left prejudging thinking that Sara had the win (which she did). It goes to show you that you can never predict contests until the final competitor has posed in the evening. Here are the results.
1. Karin Kimura – Boise, ID – 5 – 3 – 8
2. Sara Hurrle – Parker, CO – 4 – 6 – 10
3. Susan Salazar – Honolulu, HI – 10 – 10 – 20
4. Marina Lopez – Aurora, CO – 11 – 14 – 25
5. Akane Nigro-Ismeal – Castro Valley, CA – 15 – 12 – 27
6. Tracy Beckham – Concord, CA – 18
7. Valerie Gangi – Rocklin, CA – 21
8. Patricia Wood – Roseville, CA – 24
9. Lisa Giesbrecht – British Columbia, CA – 27
2012 IFBB California Governors Cup Pro Figure Results
With 18 competitors in this contest (the largest yet for IFBB Figure in 2012), and a new IFBB point system for becoming qualified in the 2012 Olympia (after first gets in automatically), the competition got a lot tougher here in Sacramento. In the end, an incredible Heather Dees edged out Krissy Chin for the win, making Heather one very happy competitor! She looked great! Allison Frahn and Jami DeBernard also looked spectacular, and it was clear that this would be a tough contest to judge. Here are the results.
1. Heather Dees – 3
2. Krissy Chin – 7
3. Allison Frahn – 10
4. Jami DeBernard – 11
5. Carin Hawkins – 14
6. Alea Suarez – 19
7. Wendy Fortino – 22
8. Jodie Minear – 25
9. Simone Mack – 26
10. Julie Mayer-Hyman – 29
11. Michelle McDonald – 34
12. Leah Berti – 35
13. Melanie Burger – 41
14. Cheri Lewis – 42
15. Tracey MacDonald – 45
16. Deborah Denio – 46
17. Rachel Gichert – 47
18. Viviana Casarubbia – 48