2012 IFBB New York Pro – Competitor Lists for May 19th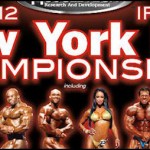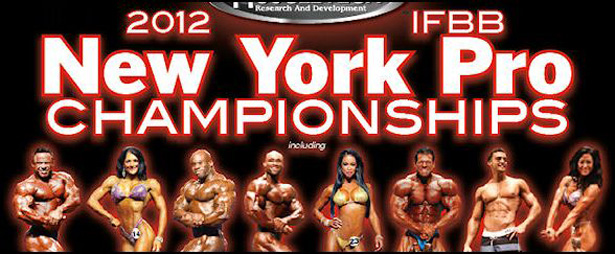 Wow – what an incredible list of competitors for the 2012 IFBB New York Pro. Here are the competitor lists for all of the six IFBB contests that will be held this Saturday, May 19th at the Tribeca Center for Performing Arts.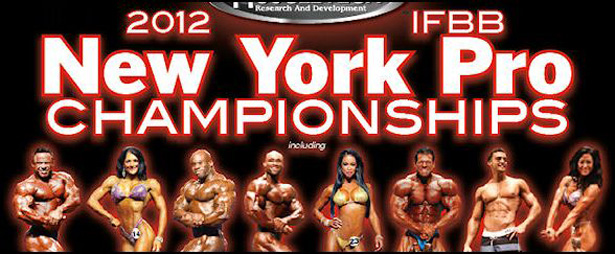 There is some confusion on which competitors will be competing in the Mens Bodybuilding Open
or in the Mens Bodybuilding 212lbs and under at the moment. While these are the lists that
first came out, it will be interesting to see if Kevin English and Vaughn Ettienne head to the 212
competition where we thought they would be at.
2012 IFBB New York Pro Mens Bodybuilding Competitors
1. Sami Ebrahim Ali Alhaddad (Manama, Bahrain)
2. Sean Allan (Matawan, New Jersey)
3. Tomas Bures (Prama, Czech Republic)
4. Jon Delarosa (Scarsdale, New York)
5. Kevin English (Dix Hills, New York)
6. Vaughn Ettienne (Brooklyn, New York)
7. Wendell Floyd (Marietta, Georgia)
8. Johnnie Jackson (Hurst, Texas)
9. Steve Kuclo (Plano, Texas)
10. Jeff Long (Mt. Laurel, New Jersey)
11. Cedric McMillan (Heath Springs, South Carolina)
12. Juan Morel (New Rochelle, New York)
2012 IFBB New York Pro Mens Bodybuilding 212lbs and Under Competitors
1. Raul Carrasco (Sevile, Spain)
2. Gaetano Cistemino (Bridgewater, New Jersey)
3. Nathan Detracy (Bellevue, Washington)
4. Myoba Edwards (Ontario, Canada)
5. Milton Holloway, Jr. (New Castle, Delaware)
6. Panexce Pierre (Maplewood, New Jersey)
7. Jose Raymond (North Reading, Massachusetts)
8. Marco Rivera (Bronx, New York)
9. Mohammed Touri (Saudi Arabia)
10. Luis Santa (Montgomery, Alabama)
11. Luis Santiago (Carolina, Puerto Rico)
12. Naor Ziv (Israel)
2012 IFBB New York Pro Mens Physique Competitors
1. Matthew Acton (Levittown, New York)
2. Eddie Baird (Orlando, Florida)
3. Craig Capurso (New York, New York)
4. Ryan Hughes (Rego Park, New York)
5. Collin Humphrey (Highpoint, North Carolina)
6. Angelo Morasca (Pittsburgh, Pennsylvania)
7. Douglas Peaney (Perth Amboy, New Jersey)
8. Anthony Scotti (Pompano Beach, Florida)
9. Mark Anthony Wingson (Las Vegas, Nevada)
2012 IFBB New York Pro Figure Competitors
1. Tiffany Archer (Washington, DC)
2. Maria Luisa Baeza-Diaz (Chile)
3. Melanie Becker-DePalma (Staten Island, New York)
4. Leah Berti (Alberta, Canada)
5. Andrea Cantone (Peabody, Massachusetts)
6. Ava Cowan (Forest Hills, New York)
7. Heather Dees (Lehi, Utah)
8. Ginette Delhaes (Quebec, Canada)
9. Thea Erichsen (Oslo, Norway)
10. Brooke Erickson (Boise, Idaho)
11. Yolando Esteso (Sauri Seville, Spain)
12. Allison Frahn (Mahwah, New Jersey)
13. Aleisha Hart (Ontario, Canada)
14. Ryan Hays-Althoff (High Point, North Carolina)
15. Caroline Hernandez (Howard Beach, New York)
16. Jacqueline Hoppe (Harvest, Alabama)
17. Candice John (Trinidad)
18. Candice Keene (Maitland, Florida)
19. Elizabeth Maurice (New York, New York)
20. Angela Mraz (Clifton, New Jersey)
21. Mona Muresan (West New York, New Jersey)
22. Angelica Nebbia (Hicksville, New York)
23. Eleni Plakitsi (Athens, Greece)
24. Marcy Porter (Georgetown, Massachusetts)
25. Katherynne Ramirez (Bronx, New York)
26. Tara Scotti (Cortland Manor, New York)
27. Monica Specking (Paragould, Arkansas)
28. Laura Tolonen (Lahti, Finland)
29. Patrice Vignola (Morganville, New Jersey)
2012 IFBB New York Pro Bikini Competitors
1. Jessica Arevalo (Tracey, California)
2. Sandy Avelar (British Columbia, Canada)
3. Jaime Baird (Orlando, Florida)
4. Abigail Burrows (Las Vegas, Nevada)
5. Juliana Daniell (Atlanta, Georgia)
6. Tawna Eubanks (Dallas, Texas)
7. Diana Graham (Duvall, Washington)
8. Janet Harding (Yardley, Pennsylvania)
9. Melinda Janiszewski (Atlanta, Georgia)
10. Tabitha Klausen Leandri (Clinton, Connecticut)
11. Kristal Martin (Gaithersburg, Maryland)
12. Bernadett (Matassa Hungary)
13. Taylor Matheny (Sand Springs, Oklahoma)
14. Heather Nappi (Novi, Michigan)
15. Cecile Palacios (New York, New York)
16. India Paulino (Pembroke Pines, Florida)
17. Kristy Robbins (Palm Harbor, Florida)
18. Yeshaira Robles (Bronx, New York)
19. Skye Taylor (Las Vegas, Nevada)
20. Talia Terese (Vallejo, California)
2012 IFBB New York Pro Womens Physique Competitors
1. Maria Allegro (College Point, New York)
2. Dana Linn Bailey (Reading, Pennsylvania)
3. Debbie Barrable-Leung (Alberta, Canada)
4. Michelle Blank (St. Simons Island, Georgia)
5. Laura Boisacq (Anchorage, Alaska)
6. Dayana Cadeau (Wilton Manors, Florida)
7. Ayanna Carroll (Baltimore, Maryland)
8. Melissa DiBernardo (Hyde Park, New York)
9. Rose-Anne Duvigneaud (Palm Beach Gardens, Florida)
10. Marilena Echohawk (Thornton, Colorado)
11. Nathalie Falk (Sachsen, Germany)
12. Cassandra Floyd (Marietta, Georgia)
13. Karen Gatto (East Meadow, New York)
14. Heather Grace (Aurora, Colorado)
15. Aurelia Grozajova (Slovakia)
16. Jennifer Hernandez (New York, New York)
17. Marina Lopez (Aurora, Colorado)
18. Juliana Malacarne (Brazil)
19. Petra Mertl (Czech Republic)
20. Teresita Morales (Middle Village, New York)
21. Tammy Patnode (Lake Placid, New York)
22. Jillian Reville (Ridgefield, Connecticut)
23. Louise Rogers (United Kingdom)
24. Jane Santos (Harrison, New York)
25. Carrie Simmons (Marina Del Rey, California)
26. Stacy Simons-McDowell (Blackwood, New Jersey)
27. Joele Smith (Hattiesburg, Mississippi)
28. Jennifer Smythe (Laurence Harbor, New Jersey)
29. Penpraghai Tiangngok (Chonburi, Thailand)