2012 NPC USA's in Las Vegas July 27-28th – Mens Competitors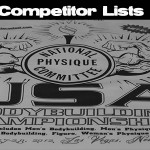 Over 800 competitors will be competing at the 2012 NPC USAs in Las Vegas on July 27th-28th. Prejudging begins on Friday at noon for Men's Bodybuilding, followed by Women's Bodybuilding, Women's Physique and Bikini. Prejudging for Men's Physique and Figure will be on Saturday morning. Here is list of some of the male competitors (although not complete) who will be competing.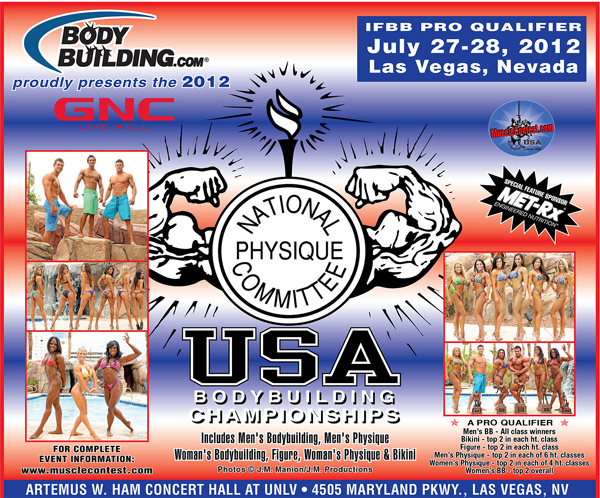 Mens Bodybuilding is always huge, and this year is no difference. Here are the tentative competitors…
Mens Bodybuilding Super Heavyweight
Brandon Lyons
Mike Weitzman
Jonathan Ward
Max Charles
Christopher Smith
Anthony Hobson
Korbie Nitiforo
Marc-Arthur Dautruchee
Chris Gillespie
Stephen Frazier
Derek Duszynski
Reginald Sargeant
Nicholas Trigli
Gabriel Moen
Swansen Brent
Josh Wade
Zinjun Croon
Ricky Collins
Mickey Hennessee
Rudy Richards
Dan Decker
Michael Sheppard
Eric Posejpal
Ryan Foxx
Josh Barnett
Mens Bodybuilding Heavyweight
Bill Haynes
Cody Lewis
Robert Youells
Kali Muscle
Caleb Blanchard
Aaron Clark
Neko Roberson
Tony Ferrhira
Matt Leake
James Stewart
Brian Case
Steven Kruckenberg
Billie Jones
Dorian Haywood
Brady Johnston
Joel Sanchez
Ransford Jackson
Matthew Cook
Rick Figoni
Anthony Pasquale
Joe Thomas
Brad Rowe
Ryan Wendt
Akeim Williams
PJ Braun
Jeff Later
Lloyd Dollar
Jonathan Irizarry
Habib Youssefi
Michael Kawaski
Brian Copeland
Rafael Jaramillo
Mens Bodybuilding Light Heavyweight
Chris Przybyla
Troy Tate
Robert Tristan
Alejandro Cambronero
Brian May
Jacob Wilson
Curtis McGovert
Mark Smith
Cory Mathews
Manuel Torres
Norman Aleong
Nahum Vizakis
Rick Salazar
Brandon Burrows
Andrew Mitchell
Edgar Petrosian
Arthur Reed
Darron Glenn
Carlos Pinto
Pete Ciccone
Adam Cohen
Anthony Brooks
Jerry Jackson
Gilbert Martinez
Ivan Meraz
Alfredo Velasquez
Ryan Martucci
Leo Morales
Clayton Johnson
Alex Gonzales
Michael Ralar
Scott Turner
Mens Bodybuilding Middleweight
Jose Rivera
Chris Hunte
Damon Aviles
Leonardo Padua
Richard Williams
Peter Gal
Robert Wichman
Thomas Weisk
Adam Reich
Marshall Bulliner
Ryan Walters
Stoil Stoilov
Brandon Truckenmiller
Andrew Pietraszewski
Kevin Moss
Neko Roberson
Emily Patton
Mens Bodybuilding Welterweight
Julius Rumingan
Charles Curtis
Daniel Marquez
Michael Gracey
Thomas Arnone
Victor Del Campo
Steve Karnya
Brandon Williams
Daniel Rocha
Jesse Sabater
Eddie Foster
Hardy Wood
Matthew Johnson
Dickens Fenelon
Kob Yan
James Bowe
Timoney Fernandez
Daniel Stern
Mens Bodybuilding Lightweight
John Dewey
David Garcia
Kelly Bautista
Ramfis Lam
Keith Fells
John Dunnegan
Phil Smeath
Nhon Ly
Patrick Hurrington
Luis Moreno
Michael Conol
Mike McGill
Jerry Foss
Andrew Vu
Jerry Guiterrez
Mens Bodybuilding Bantamweight
Barry Morris
Larry Luna
Robert Chan
Winston Johnson
Kaleo Garcia
Dean Brown
Brad Wisniewski
Richie Langit
Kenny Marrero
Jorge Pavon
Kristian Floresca
The Mens Physique competition has grown tremendously since it first premièred and you never know which competitors will become the next IFBB pros!
Mens Physique Class A
Reynaldo Pickwoad
Scott Do
Evan Arakawa
Shaka Smith
Steve Nandkeshwar
John Currie
Tyler Anderson
Frank Tran
Raymond Querido
Joseph Adaya
Brian SanAgustin
Humberto Lopez
Ousman Cessay
Devan Pina
Michael Murray
Daymond Sewall
Tai Tran
Moses Frazier
Alexander DeLaCruz
Joe Davidson
Vincent Fiore
Robert Gigilo
Armando Chavez
Mens Physique Class B
Wellington Swartout
Arthur Villanueva
Mike Saffaie
Chris Williamson
Garret White
Art Ortiz
Timothy Roberts
Luke Koval
Jason Beard
Brady Ward
Kristian Cota-Abert
David Gonzalez
Preston Noble
Earnest Flowers
Karen Yoakum
Mens Physique Class C
Curtis Hoyt
John Quinlan
Charles Flannagan
David Bowler
Lucas Ford
Louay Bachir
Colin Suzman
Kenny Perkins
Benjamin Caravalho
Christian Spencer
Chad Crouse
Shane Eslahi
Bobby Momenteller
Ryan Hediger
Bobby McCarther
Robert Grote
Rick Rozendaal
Tommy Reynolds
Zach Witchey
Eli Diaz
Adam Bankston
Kyle Lewis
Derek Trombetta
Jason Poston
Thomas Canepa
Csaba Molnar
Chris Mercadel
Chris Griffin
Mens Physique Class D
Cole Miller
Kevin Haden
VH Shelton
Theron Moodie
Mujahideen Alikhan
Alex Atanasov
William Robinson
Brad Petersen
Geobanny Paula
Patrick Rapoza
Robert Liebhart
Brandon Odom
Critelli Scatolini
Tony Litton
Josh Cohn
Aaron Silverman
Khino Brackeen
Tyler Zajic
Sean Daniel
Eden Kretchet
Chad Davison
Michael Balwanz
Nathan Granger
John Conner
Joe Warren
Joey Wheeler
Ryan Stanton
Ani Saliasi
Rob Warner
Gavin Ray
Anton Antipov
Derek Trudeau
Steve Mousharbash
Mens Physique Class E
Landon Gleave
Stephen Talamo
Matthew Ashley
Chris Caldwell
Mike Collison
Jason Giardino
Brian Harris
Tyler Sacket
Ronnie Amadi
Courtney Campbell
Karl Biermann
Artie Cook
Chad Demchik
Anthony Perez
Keenon LeBlanc
Brad Albertson
Hunter Sievert
Jim Holcomb
Sekona Taufa
Marshall Lim
Marcus Hobbs
Matt DuBois
Ian Lauer
Trent Calvan
Matt Meredith
Christopher Villa
Billy Newsome
Jon Hazard
Jeanie Lyons
Mens Physique Class F
Beckie Boddie
David Lamb
Danny Kovarkizi
Nathan Lewis
Paul Tomko
Greg Ewen
Branko Teodorovic
Wade Hayes
Rabelo Clemente
Cory Lagasse
Frank Hamilton
Branko Teodorovie
Alfanzo Basurto
Erik De La Rosa
Renzo Aste
Scott Clifton
David Kimerlee
Jeremey Zimmerman
Matt Burcur
Jared Hold
Mark Olson
Jeff Seid
Antionne Scott
Justin Williams
Kurt Weber
Tim Martin
Derrick Wade
Christoph Wertz
Kyle Lopez
Bryant Fought
Daniel Mejia
Antwaun Moore
Aaron Randall
Dean Stroud
Matt Pattison
Matt Nelson
Bradley Martyn
Kyle Macy
Lawrence Murphy
Fernando Orozco
Mourod Guiragossian