2012 IFBB Europa Super Show Dallas Competitor Lists and Info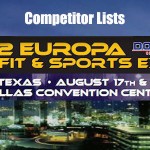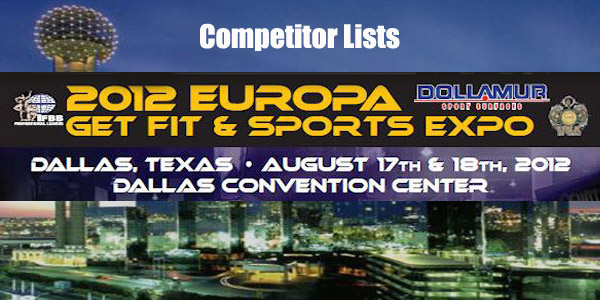 Three IFBB contests will be held in Dallas on August 17-18th, including the IFBB Pro Mens Open Bodybuilding, IFBB Pro Mens 212lbs and Under Bodybuilding and the IFBB Pro Figure competition. Here are the competitors lists and info.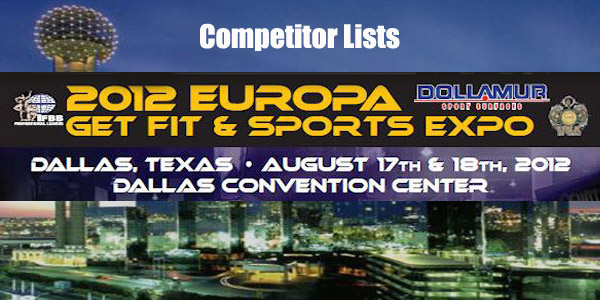 Here are the competitor lists for all of the three IFBB Pro contests.
IFBB Europa Super Show Men's Bodybuilding Open
1. Sean Allan (Matawan, New Jersey)
2. Grigori Atoyan (Sacramento, California)
3. Troy Alves (Glendale, Arizona)
4. Pablo Ayala Zayas (Paraguay)
5. Lee Banks (Jacksonville, Florida)
6. Gus Carter (Arlington, Texas)
7. Adorthus (AD) Cherry (Modesto, California)
8. Brandon Curry (Murfreesboro, Tennessee)
9. Rodney Davis (Las Vegas, Nevada)
10. Constantinos Demetriou (Australia)
11. Wendall Floyd (Marietta, Georgia)
12. Toney Freeman (Canton, Georgia)
13. Todd Jewel (Yamika, Washington)
14. Manuel Lomeli (Mexico)
15. Jeff Long (Mt. Laurel, New Jersey)
16. Cesar Mendible (Caracus, Venezuela)
17. Zaher Moukahal (Lebanon)
18. An Nguyen (Los Angeles, California)
19. Ed Nunn (Anderson, Indiana)
20. Shawn Rhoden (Germantown, Maryland)
21. Keith Williams (Plymouth, Minnesota)
22. Roelly Winklaar (Netherlands)
23. Hidetada Yamagishi (Japan)
2012 IFBB Europa Super Show Mens Bodybuilding 212lb and Under
1. Oliver Adzievski (Sweden)
2. Ahmad Ahmad (Sweden)
3. Khalid Almohsinawi (Netherlands)
4. Robert Belisle (Edmonton, Ontario, Canada)
5. William Bonac (Amsterdam, Netherlands)
6. Marcos Cardona (Columbia)
7. Gianluca Catapano (Benevento, Italy)
8. Derik Farnsworth (San Diego, California)
9. Roger Ferrer (Aventura, Florida)
10. Peter Foucaux (Lille, France)
11. David Henry (Tucson, Arizona)
12. Tricky Jackson (Louisville, Kentucky)
13. Rixio Tapia (Venezuela)
14. Marvin Ward (Fort Worth, Texas)
15. Quincy Winklaar (Curacao)
2012 IFBB Europa Super Show Dallas Pro Figure
1. Julia Aragon (El Paso, Texas)
2. Tivisay Briceno (Memphis, Tennessee)
3. Clarissa Castaneda (Cozumel, Mexico)
4. Vicki Counts (Calumet City, Illinois)
5. Debbie Fowler (Fort Worth, Texas)
6. Soleivi Hernandez (Houston, Texas)
7. Tatiana Koshman (Spring, Texas)
8. Georgina Lona (Mexico City, Mexico)
9. Michelle Mayberry (Federal Way, Washington)
10. Jodie Minear (Houston, Texas)
11. Olga Maria Morales Gallardo (Mexico City, Mexico)
12. Nuria Novoa (Auckland, New Zealand)
13. Melanie Oberg (Saskatchewan, Canada)
14. Larissa Reis (Brazil)
15. Felicia Romero (Chandler, Arizona)
16. Miriam Sanchez (Lo Pagan, Spain)
17. Laurie Schnelle (Sarasota, Florida)
18. Alea Suarez (Cedar Park, Texas)
19. Katerina Tarbox (Warick, Rhode Island)