2013 Arnold Classic Brazil Results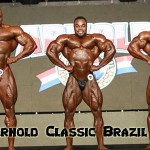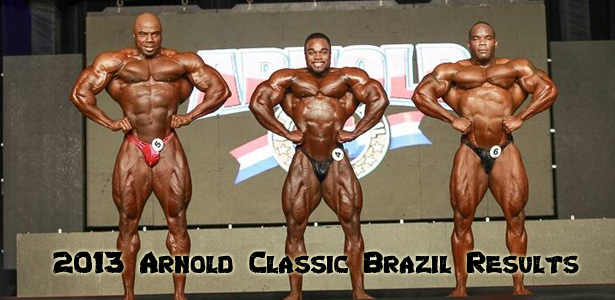 Congratulations to Brandon Curry and Ryall Graber Vasani for winning the 1st ever Arnold Classic Brazil. Here are the complete results.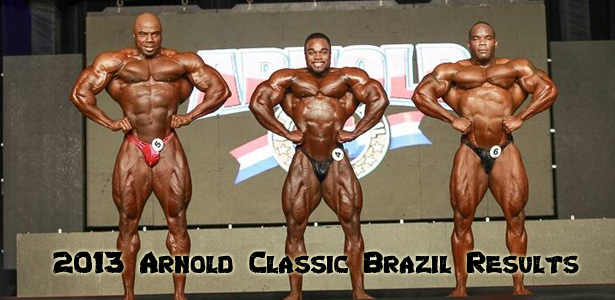 The first ever Arnold Classic Brazil was held on April 27th in Rio de Janiero, Brazil. Cedric McMillan, one of the favorites coming into this contest, and winner of last weeks FIBO Power, was disqualified after he failed to make the meeting that gave out competitor numbers. Tanji Johnson never made it out of the USA after having VISA problems. Here are the complete results from the IFBB Pro contests.
2013 Arnold Classic Brazil Pro Open Mens Bodybuilding Results
1. Brandon Curry – Murfreesboro, Tennessee, USA
2. Toney Freeman – Canton, Georgia, USA
3. Johnnie Jackson – Hurst, Texas, USA
4. Edward Nunn – Anderson, Indiana, USA
5. Fred Smalls – Townsend, Delaware
6. Robert Piotrkowicz – Poland
7. Michael Kefalianos – Australia
8. Hidetada Yamagishi – Japan
9. Ronny Rockel – Germany
10. Baitollah Abbaspour – Karaj, Iran
11. Mohamed Ali Bannout – Lebanon
12. Fernando Noronha De Almeida – Brasil
13. Francisco 'Pacp' Bautista – Spain
DNC. Cedric McMillan – Heath Springs, South Carolina, USA
2013 Arnold Classic Brazil Pro Fitness Results
1. Ryall Graber Vasani – Canada
2. Regiane Da Silva – Germany
3. Nicole Duncan – Oxford, Georgia, USA
4. Trish Warren – Copper Canyon, Texas, USA
5. Allison Ethier – Quebec, Canada
6. Fiona Harris – Ontario, Canada
7. Diana Monteiro – Brasil
8. Kizzy Vaines – United Kingdom
9. Natalie Planes – Hicksville, New York, USA
10. Amanda Hatfield – Brunswick, Ohio, USA
DNC – Tanji Johnson – Renton, Washington, USA