---
Flex Magazine

For more information, call (800) 521-0303
---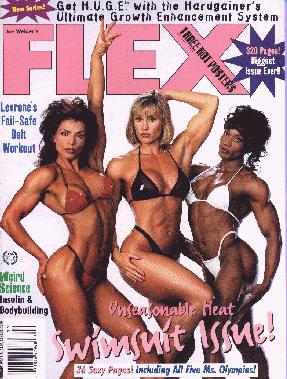 February 1996 Flex issue features a 36 page swimsuit special, with all of the five past and current Ms. Olympia's, which is called Winter Heat. Also, they have started a new series called H.U.G.E. (Hardgainers Ultimate Growth Enhancement System, which gives you the tools to continue growing.
---
Flex Magazine considers themselves the bible of hardcore bodybuilding. Each month, Flex visits and speaks with the champions of bodybuilding at their gyms, at contests, and at their homes, gathering information and photographs, Flex brings you their latest strategies, and the competitive goals that they apply to further develop their title-winning physiques. Flex contains lots of photographs of the most muscular men and women in the bodybuilding world. Flex is the official magazine of the IFBB.


---
Table of Contents - February 1996 issue
---
Training Science:
Jumbo Combo: Lee Preist talks about his favorite techniques for inducing lower body growth.
Cablegrams: Interview with Vince Taylor
Steady the Course: How Sonny Schmidt became the '95 Masters Olympia Champ.
Bodybuilding:
My Fail Safe Shoulder Routine: by Kevin Levrone
An Alternative to Barbell Benches: If you want thick slabs of muscle in your upper pecs, a workout by Joe Spinello
Special Inserts
Drug World:
Decline Thrash with Captain Anabolic
Pictorials
Don Long's Pro Dreams: The National Champion has a dream
Sideshow: Pictures at the latest Olympia blowout in Atlanta
Drugs & Nutrition
Advanced Nutrition: The latest science on magnesium, creatine monohydrate, caffeine, and ginseng.
Are you Insulin ignorant? A discussion and search of the scientific literature about a frightening trend in competitive bodybuilding.
Swimsuit Special
Winter Heat! 36 pages featuring all the five Ms. Olympias and the top bodybuilding and fitness physiques.
Posters
Cory Everson, Lenda Murray, Rachel McLish
Sharon Bruneau, Monica Brant, Jacquie Wang
Debbie Kruck and Amy Fadhli
Contests
NPC Nationals Men's: The Long Weekend: The contest had surprises, besides Don Long, which included Tom Prince.
NPC National Women's: Not Just Whistlin' Dixie: Paula Suzuki, perhaps the female Dorian Yates.
Steel City Sinew: 1995 Masters National Championships
Features
Out of the Mouths: Overheard at the 1995 Olympia weekend
Beaty of the Best: A written and visual assessment of Dorian Yates
New Series
H.U.G.E.: Part 1: The Hardgainer's Ultimate Growth Enhancement System gives you the tools to continue growing.
Departments
Editor's Page
Talkback
Hard Times
Mr. Olympia corner
Ms. Olympia corner
Factoids
Frozen Moments
Superteen
Hocus Focus
Street Scene
Flex 'n' Femme
Talent Roundup
Bruneau Style
Inspiration
Hangin' Out
Flex Note
NPC Coming Events
Photo Ops
Readers Market
IFBB World Report
Comin' Up
Musclehedz
---