---
Flex Magazine

For more information, call (800) 521-0303
---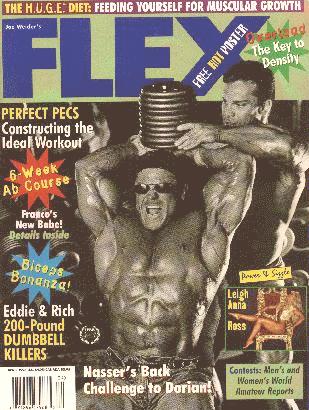 The April 1996 Flex issue features a great article about Nassar El Sonbaty and his destiny to become Mr. Olympia by challenging Dorian Yates. There is also an excellent pictorial of Leigh Anna Ross, and an article on a 6 week ab course. The World Amateur Championships, Men's in Guam, Women's in Belgium is also featured here.
---
Flex Magazine considers themselves the bible of hardcore bodybuilding. Each month, Flex visits and speaks with the champions of bodybuilding at their gyms, at contests, and at their homes, gathering information and photographs, Flex brings you their latest strategies, and the competitive goals that they apply to further develop their title-winning physiques. Flex is the official magazine of the IFBB.


---
Table of Contents - April 1996 issue
---
Bodybuilding:
Britain's Other Absolutely Fabulous Export: Coax those abdominals out of hibernation with this six week crash course in training and trimming, a quick and effective plan to build and sculpt abdominals in crystal clear detail. By Charles Clairmonte.
The 20 Minute Biceps Blitz: Get down and dirty with a no nonsense attack on biceps, absolute manna for hardgainers and bodybuilders on the run. By Errica Kern.
Back to the Top: A memo to Dorian Yates... watch your back! A fellow muscle monster scales the heights of Mount Olympus with a brand new lat workout, one that;s perfect for packing on fresh slabs of beef. By Nassar El Sonbaty.
Anatomy of a Chest Workout: Part One: A systematic analysis of scientific training, from the rudimentary basics to the most complex aspect of creating the ultimate chest. By Milos Sarcev.
Training Science:
Heavy Power Groove: Welcome to the world of the superfreaky, a training universe that asks you to lift with compound exercises and very heavy weights. Learn how to build enough muscle mass to choke a horse following a basic edict. Go heavy or don't go at all. By Paul Dillet.
The Overload Principle: This classic reprint sets the record straight on the most famous Weider Principle. It;s amazingly simple: Increasing your workload is the first step in the search for massive size, power and density. By Franco Columbu.
Killer Guns: Two new pros go at it hammer and tongs to prove that arm thrashing is the ticket to fame and fortune in professional bodybuilding. Just try keeping up with this high intensity workout... good luck. By Stan McCrary and Jerrey Long.
How to get H.U.G.E.: Part 3: The ultimate growth enhancement system for hardgainers. This month: The H.U.G.E. Bodybuilding Diet.
Pictorials
Achim Albrecht: Life's a Beach
Leigh Anna Ross: 1995 California State Heavyweight champion
Rich Gaspari & Eddie Robinson: Still crazy after all these years.
Nutrition
Advanced Nutrition: Latest on MCT's, aspartame and appetite, low carbs and brain function, and IGF-1 and nutrition.
Alternatives to Insulin? Second installment of a two part series, we cover both the drugs and the supplements currently being used by bodybuilders to produce insulinlike effects without, in most cases, the severe hypoglycemic side effects.
Features
Packing Your Gym Bag: The ins and outs of preparing for your first contest.
In Praise of Dorian Yates: One man's homeage to 'The Shadow', the personification of the British credo that the true regards for a man's efforts like in the process, not the glory.
Muscle beach Maestro: The scoop on Bull Howard, the driving force behind a group of people dedicated to preserving the spirit of Muscle Beach.
Posters
Leigh Anna Ross / Nasser El Sonbaty
Contests
World Amateur Championships: A World in Paradise in Guam
Women's World Amateur Champions: Brugge, Belgium
Grab Shots
Baptism Around Iron: Franco's pride and joy, little Maria, takes the plunge.
Frozen Moments: Members of Muscledom caught in the act
Hovcus Pocus: Summary of the flexing matters seen here, there, anywhere
Departments
Talkback
Shock Sets
Hard Times
Mr. Olympia corner
Ms. Olympia corner
Superteen
Ten Years Ago in Flex
Factoids
Straight from the Lip
Flex 'n' Femme
NPC Coming Events
Street Scene
Musclehedz
Hanging Out
Street Scene
Photo Ops
IFBB World Report
Comin' Up
---