---
Flex Magazine

For more information, call (800) 521-0303
---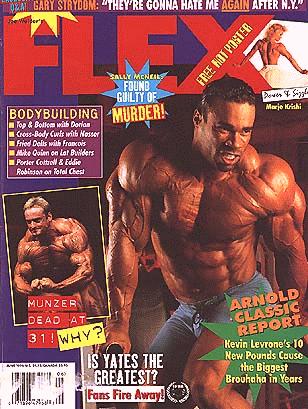 As usual, the June 1996 issue of Flex Magazine features a lot of interesting information, including how to get big in calves, delts, shoulders, and arms from three of the top bodybuilders, Dorian Yates, Nassar El Sonbaty, and Mike Francois. Other interesting articles include the Arnold Classic results, a pictorial on Marjo Krishi, and how Gary Strydom is coming back to compete after being in the WBF a long time ago.
---
Flex Magazine considers themselves the bible of hardcore bodybuilding. Each month, Flex visits and speaks with the champions of bodybuilding at their gyms, at contests, and at their homes, gathering information and photographs, Flex brings you their latest strategies, and the competitive goals that they apply to further develop their title-winning physiques. Flex is the official magazine of the IFBB.


---
June 1996 - Table of Contents
---
Bodybuilding:
Top & Bottom: The ideal physique begins with big from delts and ends of rocky calves. Let Mr. Olympia show you how to perform front dumbbell raises, seated calf raises and standing calf raises to achieve proportional perfection. By Dorian Yates
One Gun at a Time: The neverending search for bigger, freakier arms continues: Now it can be told that unilateral cable movements and continuous tension are the secrets to honing huge guns. By Nasser El Sonbaty.
Shoulder Boulders: Here's everything you need to know about building delt caps as big as Volkswagens. Who could ask for anything more? By Michael Francois.
Training Science:
Curled Beef: The best way to beat injuries is to vary your workouts and train scientifically with a whole slate of pain free exercises. Dig into the nine edict that will guide you through a productive rehab.
Gunnin' It! Supersetting biceps and triceps for rapid gains in mass is absolute manna for bodybuilders in the market for success.
Get Back, Baby! Shred those lats and shit up! Check out these pulldown variations for a thicker, broader back.
Flying High! Don't press your luck by doing the same thing every chest workout, because flyes can help your pecs really take off.
How to get H.U.G.E. Part 5: The ultimate growth enhancement system for hardgainers. This month: How to devise a training dairy.
Features
Gary Strydom is ... 'Back in your Faces!': Love him or hate him, there's no denying that this 275 pound bundle of beefs has a bundle of beefs. Strydom talks candidly about his comeback, the WBF fiasco and the always wacky world of bodybuilding
Does Yates deserve the Sandow? The fans of Dorian Yates, and there are many, respond an masse to recent criticism of their hero in the pages of Flex. Now the Yates' faithful, armed with brickbats, fight on with an outpouring of letters that support the Shadow's vice grip on the beloved Sandow,,,
Bodybuilding's 'It' Girl: Canadian sensation Cathy LeFrancois is too goo to be true. We sense a warming trend from the Great White North.
The Big Picture: Milos Sarcev
Pictorials
Kevin Levrone: Livin' Large: 1996 Arnold Classic Champ
Marjo Krishi: Finn Fatale: Scandinavian import
Porter Cottrell: Explosive Power Pectrial...
Nutrition
Advanced Nutrition: This month: The latest science on beta carotene and toxicity, unbalanced diets and bodybuilding, mixing caffeine with creatine, and chromium, vanadyl and molybdenum.
Contests
Classic Clossi: 1996 Arnold Schwarzenegger Classic: $100,000 top goes to Levrone
Grab Shots
Frozen Moments: Members of muscledom caught in the act
Hocus Focus: A summary of flexing matters seen here, there, anywhere.
Departments
Talkback
Flex Note
Hard Times
Mr. Olympia corner
Ms. Olympia corner
Superteen
Ten Years Ago in Flex
Factoids
Flextra
Straight from the Lip
Flex 'n' Femme
NPC / Coming Events
Street Scene
Musclehedz
Street Scene
Photo Ops
IFBB World Report
Comin' Up
---