---
Flex Magazine

For more information, call (800) 521-0303
---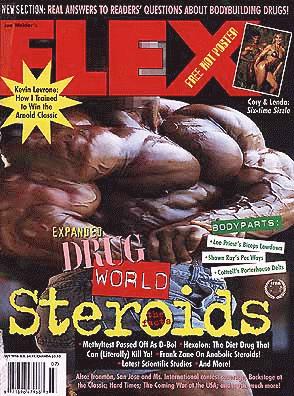 Packed with a new section titled 'Drug World', Flex's July issue is a great one. Flex profiles four contests, including the Arnold Classic, Ironman Pro, San Jose Pro, and Ms. International with excellent pictures. Also, Lenda Murray and Cory Everson gracefully pose together in excellent form, and Tom Prince and Craig Titus are poised and ready to compete in the 1996 USA Championships June 28-29th in Long Beach, California.
Flex Magazine considers themselves the bible of hardcore bodybuilding. Each month, Flex visits and speaks with the champions of bodybuilding at their gyms, at contests, and at their homes, gathering information and photographs, Flex brings you their latest strategies, and the competitive goals that they apply to further develop their title-winning physiques. Flex is the official magazine of the IFBB.


---
July 1996 - Table of Contents
---
Bodybuilding:
Contest Chest: The right combination of free weights and machines keeps you big and gets you cut. Take a gander at the hobs of pec meat you can build with this 'jump start me for the show' weekend. By Shawn Ray
Priestly Biceps: The lad from down under shares his unholy approach - 20 set workouts - for massive gains. Lock and load those guns with this fat and furious mass builder. By Lee Priest.
Porterhouse Delts: Want to turn your shoulder girdle into a beef packed T-bone? If the answer is yes, then check out this sizzling primer on delt crashing. If the answer is no, then check yourself into the nearest mental institution. By Porter Cottrell.
Training Science:
You Don't Get Big Arms from Doing Curcls: Yes, truth is stranger than fiction: A steady diet of squats, deadlifts, shrugs and bench presses - the classic large muscle exercises - will do more to build big arms than standard dumbbell or barbell curls. Proof positive that curls are for the girls. By Bill Starr.
Bigger, Better, Best: The inside story of how the Maryland Muscle Machine - a genuine threat to Dorian Yates' stranglehold on the Mr. O crown - packed on 10 pounds of raw muscle to snag the first place trophy at the 1996 Arnold Schqarzenegger Classic. By Kevin Levrone.
The Seven Minute Solution: Dig deep into the Incredible Hulk's bag of shock set tricks and what will you find? A three set whirlwind of 21s to punish your biceps until they grow. A quick fix for bodybuilders in the fast lane. By Lou Ferrigno.
How to get H.U.G.E. Part 6: The Hardgainer's Ultimate Growth Enhancement System. This month: the scoop on cardiovascular exercise and its effect on building mass and getting ripped for contests.
Features
Musclehedz at the Classic: Flex sent Musclehedz creator John Gleneicki to Columbus for his twisted take on muscle mania at the '96 Arnold Schwarzenegger Classic.
Andreas Munzer: October 25, 1964 - March 15, 1996: Saying farewell to one of the true gentlemen of the sport.
Pro Talk: Jean Pierre Fux, a 5'11", 280 pound wunderkind from Switzerland, took the bodybuilding world by storm at the 1996 Arnold Classic in Columbus. Flex interviewed many of the top IFBB veterans to get their perspectives on this Swiss muscle monster.
The Big Picture: The Samir Bannout File
Shocker meets Shocker: Tom Prince and Craig Titus are poised and ready to go at it mano a mano at the 1996 USA Championships in Long Beach, California. Here are their individual strategies for grabbing that elusive pro card.
Pictorials
1996 Arnold Schwarzenegger: Classic Group Assessments: A virtual posedown of the top finishers at the Arnold Classic, complete with exclusive physique analysis from Team Flex.
Lenda Murray and Cory Everson: Two sensuous six time Ms. Olympia champions. Double your pleasure, double your fun - with Lenda and Cory, it is easy to get excited about the upcoming Ms. Olympia.
Into the War Zone: Take a look at the behind the curtain high jinks that went on at the 1996 Arnold Schwarzenegger Classic and Ms. International.
Nutrition
Advanced Nutrition: This month: More protein means more lean mass; fat intake and muscle building dynamics; and carb effects in muscle.
Contests
Ms. International: March Madness in Ohio: Kim Chizevsky relied on her banks of layered muscle to outdistance Laura Creavalle.
Ironman Pro Invitational: Mortal Kombat: L.A. Style: IN what can only be described as a bloodbath of epic proportions, Flex Wheeler stormed in under the mantle of night to capture the top prize.
San Jose Pro Invitational: Beyond the Silicon Valley of the Giants. A bunch of brand new bodybuilders from hell showed up at the San Jose Pro Invitational. And when all was said and done, Kevin Levrone, an old pro from Maryland, taught these young giants a lesson.
Supersection
Drug World: To combat all the misinformation being promoted as fact in other publications and floating in cyberspace on the Internet, Flex has enlisted the finest scientists and researchers to bring the truth to its readers. This is not a bible of drug usage; rather, it is a reader service to help you make intelligent decisions while remaining up to date on the vanguard of cutting edge research. This month: the latest on Hexalon; an informative Q&A with former Southern States champ Phil Goglia; Frank Zane on steroids, and the tie in between growth hormone and enhanced strength.
Poster / Special Insert
Poster: Lenda Murray and Cory Everson / Andreas Munzer
Special Insert: Pullover Possibilities with Captain Anabolic
Departments
Factoids
Flex 'n' Femme
Flextra
Hangin' Out
Hard Times
IFBB World Report
Inspiration
Mr. Olympia corner
Ms. Olympia corner
NPC Report
Photo Ops
Reader's Market
Superteen
Talkback
Talent Roundup
Ten Years Ago in Flex
---