---
Flex Magazine

For more information, call (800) 521-0303
---
February 1997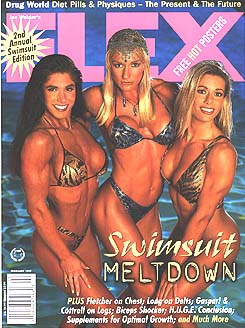 I always enjoy the swimsuit edition of Flex Magazine, featuring the finest in bodybuilding and fitness women. The February 1997 issue is no exception, this probably going to be Flex's best selling issue of the year. Other sections include the NPC Nationals contest, and the conclusion of the ultimate growth enhancement system, part 13...
Flex Magazine considers themselves the bible of hardcore bodybuilding. Each month, Flex visits and speaks with the champions of bodybuilding at their gyms, at contests, and at their homes, gathering information and photographs, Flex brings you their latest strategies, and the competitive goals that they apply to further develop their title-winning physiques. Flex is the official magazine of the IFBB.


---
February 1997 - Table of Contents
Volume 14, Number 12
---
Bodybuilding:
Sidewideners: The wider your delts, the more dramatic your entire physique becomes. With this deadly gang of five delt thrashers, you'll learn how to get wider than a Virginia sunrise, and believe us, that's really, really wide! By Don Long...
Massive Machine Maneuvers: A mind blowing, pec popping machine workout that enables you to build new outcroppings of muscle in your upper chest, those long awaited gains that are so hard to achieve with a conventional free weight approach. By Edgar Fletcher.
Checkmate! That's what you'll scream when you throttle your biceps with this off the wall shock sett stratagem. Outsmart your opponents - not yourself - with a combination of dumbbells, strict form and quality training. By Patrick Lynn.
Training Science:
How to get H.U.G.E. Part 13: The ultimate growth enhancement system for hardgainers. This month: The stunning and shocking finale to this yearlong training odyssey. Nine of the top pro bodybuilders offer their advice on how best to proceed from here with your bodybuilding efforts. Good luck!
Feature:
Overhead at the Olympia Weekend: "The littlest guy in the contest has the biggest fucking mouth" and other quotes. Read on and you'll get more quips and quotes of this ilk.
Swimsuit Special:
Meltdown: That is what is in store for you after whipping through our megafeature of white hot action. Our top female bodybuilders and the sexiest fitness competitors combine forces to pump you up - in and out of the gym.
Posters:
Ericca Kern / Theresa Hessler, Michelle Bellini, Karen Hulse
Monica Brandt / Natalia Murnikoviene
Nutrition:
Super Supplements: The inside dope on protein powders, chromium, multivitamins and minerals, ketoisocaproate and omega-3 fatty acids.
Contest:
The Ayes of Texas: In Dallas, the beef capital of Texas, Jay Cutler defeats Tom Prince in the heavyweight bout and unheralded Willie Stalling wins the overall at the 1996 Men's NPV Nationals.
Supersection:
Brave New Drug World: To combat all the misinformation being promoted as fact in other publications and floating around in cyberspace on the Internet, Flex has enlisted the finest scientists and researchers to bring the truth to its readers. This is not a bible of drug usage; rather, it is a service to help readers make intelligent decisions and staying up to date on the vanguard of cutting edge research.

This month: Diet drugs from soup to nuts; the zinc / bodybuilding connection; phosphate supplements as ergogenic aids; and much more...
Pictorials:
Ray of Determination: Despite consistently falling just short of winning the Mr. Olympia, Shawn Ray refuses to surrender until he's given his propers. Ray's search for the Holy Grail, the Sandow, foes on. All new photos of the Mr. O in waiting.
Quartet for Quads: Porter Cottrell and Rich Gaspari spill the beans, at least, and come clean with a four exercise, textbook approach thigh program that is guaranteed to pack on the mass, carve out separation and build outer sweep in your quads.
Departments:
Factoids
Flex Files
Flextra
Hard Times
IFBB World Report
Mr. Olympia corner
NPC Report
Reader's Market
Superteen
Talkback
---