---
Flex Magazine

For more information, call (800) 521-0303
---
May 1997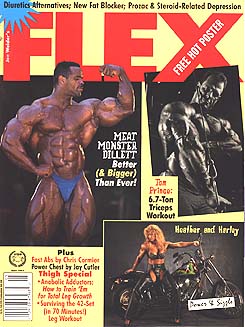 Paul Dillett, Tom Prince, and Heather Tristany all grace the cover of the May issue of Flex Magazine. Besides each of these three bodybuilders having their own article / pictorial in the issue, Natalia Murnikoviene and Jay Cutler also have excellent articles on training. The Drug Supersection is also quite interesting, having the second part of the inside scoop on 'Doping in East Germany's sports'.
Flex Magazine considers themselves the bible of hardcore bodybuilding. Each month, Flex visits and speaks with the champions of bodybuilding at their gyms, at contests, and at their homes, gathering information and photographs, Flex brings you their latest strategies, and the competitive goals that they apply to further develop their title-winning physiques. Flex is the official magazine of the IFBB.


---
May 1997 - Table of Contents
Volume 15, Number 3
---
Bodybuilding:
The 6.7 Ton Triceps Workout: That's how much weight you'll have lifted after you complete this gauntlet, which reflects a simple truth: For maximum mass, you have to lift maximum poundage. And to give your elbows a reprieve, try cycling in the recommended "lighter" routine every other triceps workout. Forewarned is forearmed; however, you're still gonna have to bust your ass.

Lithuanian Legs of Steel: Natalia Murnikoviene's legs defy credulity, revealing enough muscular development to put most men to shame and shock even the most jaded L.A. crack addict. Precontest, this East European leg killer comes in from the cold to perform 42 sets in 70 minutes - enough to send anyone's wheels speeding into hypertrophy.

Arch Deluxe: To develop a contest ready chest, you've got to arch your back when you press so that your pecs receive the full brunt of the punishment. Put a kink in your training with these four no-nonsense chest movements, designed to charbroil even those hardest-to-reach pec fibers.
Training Science:
Lag No More: The basis of all strength development emanates from the center of the body, yet many people don't even train their abductors, which play an essential role in squats, deadlifts and other power movements. If you want wide flanges of muscles on your inner thighs, follow this textbook how-to on abductor training.
Features:
Awesome Encounters: It was horrifying. Awesome, positively awesome. Ian Harrison and other mass monsters describe the sights that left them stunned and speechless.
The Big Picture: The Don Long file.
Posters:
Heather Tristany / Jay Cutler
Nutrition:
Safe Alternatives to Diuretics: With diuretics being tested for at the highest levels of the sport, learning to 'dial in' without them is critical for competitive bodybuilders. Here's a primer on the best and safest alternatives out there.
Advanced Nutrition: This month: Potassium and testosterone; insulin and vitamin E; and low carbs vs. high carbs.
Pictorials:
Rock n Roll Abs: Only the best bodybuilders have signature poses, and for Chris Cormier, it's the ab and thigh that makes the young girls cry.Look and learn as the Real Deal finally reveals his secrets for developing abs that shake, rattle and roll.
Sleek & Powerful: California State champ Heather Tristany puts something exciting between her legs in this white hot Power & Sizzle.
On Track: A picture may be worth a thousand words, but these shots of Paul Dillett speak volumes about the open ended possibilities of human physique evolution. Buckle up as Freakenstein rocks the house.
Posters:
Supersection:
Brave New Drug World: To combat all the misinformation being promoted as fact in other publications and floating around in cyberspace on the Internet, Flex has enlisted the finest scientists and researchers to bring the truth to its readers. This is not a bible of drug usage; rather, it is a service to help readers make intelligent decisions and staying up to date on the vanguard of cutting edge research.

This month: The second in Flex's five part series on the doping program that fueled East Germany's sports machine; The Word from the Street, the worthy successor to Array Q&A; the Iron Egghead, which looks at creatine, HMB, testosterone, leptin, and the possibility of muscle fiber hyperplasia; and Jerry Brainum's introduction to a new fat loss drug and research on getting huge without training.
Departments:
Blanchette Style
Factoids
Flextra
Flex Files
Flex Notes
Flex 'n' Femme
Flextra
Hard Times
Hocus Pocus
IFBB World Report
Mr. Olympia corner
Ms. Olympia corner
Musclehedz
NPC Report
Reader's Market
Straight from the Lip
Street Scene
Talkback
Talent Roundup
---