---
Flex Magazine

For more information, call (800) 521-0303
---
June 1997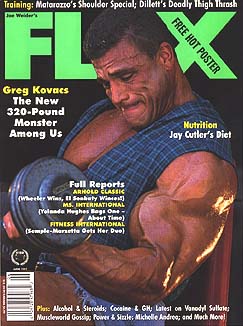 The June issue of Flex Magazine features complete coverage of the 1997 Arnold Classic weekend, with all three contests reported on. Also, Greg Kovacs, the huge, huge (320 lb) freakazoid who is going to begin his pro career at the Night of Champions has his own training science article, and is also featured on the cover. Also, a stunning pictorial on bodybuilding star Michelle Andrea in the latest Power & Sizzle!
Flex Magazine considers themselves the bible of hardcore bodybuilding. Each month, Flex visits and speaks with the champions of bodybuilding at their gyms, at contests, and at their homes, gathering information and photographs, Flex brings you their latest strategies, and the competitive goals that they apply to further develop their title-winning physiques. Flex is the official magazine of the IFBB.


---
June 1997 - Table of Contents
Volume 15, Number 4
---
Bodybuilding:
Never Too Wide! Can your delts ever get too big? Not a change, or so says Mike Matarazzo, king of the 'wider than wide' world of shoulder expansion. If you want beef, plain and simple, you've come to the right place.

Slaughterhouse 5: Freakenstein rummages through the nuts and bolts of five monster leg movements. A bloodstained clinic on leg presses, hack squats, leg extensions, stiff leg deadlifts and standing single leg curls.
Training Science:
Kovacs: On May 17, 1997, Greg Kovacs will make his pro debut at the Night of Champions in New York City, promising to weight 320 pounds, contest hard. Given that as a preteen he surpassed the livestock in carcass value of the local sale barm, there's little doubt that this big, strong man - a plinian eruption of muscle - will be true to his bovine bravado.
Nutrition:
Advanced Nutrition: This month: Vandayl sulfate: the inside story; high protein and calcium excretion - searching for a cure; and the skinny on increasing fat intake to lose bodyfat.

The Jay Cutler Diet: A behind the scenes look at the final seven days leading up to the 1996 NPC Nationals in Dallas, where Cutler shocked favorite Tom Prince by grabbing a pro card. By carefully analyzing this case study of a precontest diet in action, you'll be able to bring your own physique up to snuff in the nick of time.
Supersection:
Brave New Drug World: To combat all the misinformation being promoted as fact in other publications and floating around in cyberspace on the Internet, Flex has enlisted the finest scientists and researchers to bring the truth to its readers. This is not a bible of drug usage; rather, it is a service to help readers make intelligent decisions and staying up to date on the vanguard of cutting edge research.

This month: Flex's summer party down alert - don't mix GH with cocaine, son; the third in Flex's five part series on the doping program that fueled East Germany's sports machine' Chris Street on Sostenon 250; and our experts offer a reality check on Nubain, a potent analgesic that is claimed to be sweeping the bodybuilding community.
Pictorials:
Mass-todon! Ronnie Coleman preaches that heavy weight and high reps are the shortest path to freaky size. After you see these photos, you'll be quick to agree with anything Coleman has to say on any subject.

One More Time! Michelle Andrea makes an encore performance in Power & Sizzle. More is better!
Posters:
Michelle Andrea
Flex Wheeler
Contests:
Classic Art: The 1997 rendition of the Arnold Schwarzenegger Classic created enough excitement to entice the forbidding Schioto River to almost overflow its banks. In another watershed year for logarithmic leaps in the size of the champions, it was one of the lighter bodybuilders - Flex Wheeler - who came away with the loot.

Hughes Head over Heels: Yolanda Hughes put her ample muscularity and years of experience to work in grabbing first place at the 1997 Ms. International. There were enough subplots to fill Arnold's next movie ... read on!

Secrets and Thighs: WIth the bodybuilding world watching for signs of weakness, the 1997 Fitness International proved to be a polished, well organized competition. And after taking a tumble at the Fitness Olympia, Carol Semple-Marzetta wheeled her way back up to the top of this spanking new sport.
Departments:
Factoids
Flex Files
Flex n Femme
Flextra
Hard Times
IFBB World Report
Kaminga Style
Mr. Olympia corner
Ms. Olympia corner
Musclehedz
NPC Report
Reader's Market
Talkback
---