---
Flex Magazine

For more information, call (800) 521-0303
---
July 1997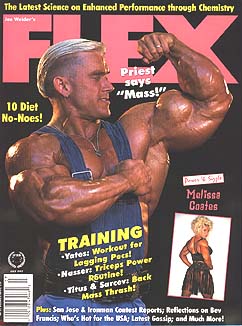 The July issue of Flex Magazine features coverage of the Ironman and San Jose Pro Bodybuilding contests, both which were won by Flex Wheeler. Other interesting articles include a three step program to bring your chest up to par, and advice on bulking for delts. Lee Priest, who came in second at the Ironman Pro, is featured on the cover, while Melissa Coates is the star in the Power & Sizzle section.
Flex Magazine considers themselves the bible of hardcore bodybuilding. Each month, Flex visits and speaks with the champions of bodybuilding at their gyms, at contests, and at their homes, gathering information and photographs, Flex brings you their latest strategies, and the competitive goals that they apply to further develop their title-winning physiques. Flex is the official magazine of the IFBB.


---
July 1997 - Table of Contents
Volume 15, Number 5
---
Bodybuilding:
Conquering the Die Hard Chest: Hardgainers, rejoice! There's finally a three step program to bring your chest up to par with the rest of your physique. Now, at long last, you'll be able to build a chest that tells everyone - men, women and children - that you've paid your dues with hard and heavy lifting. By Dorian Yates.

Delts from the Dark Ages: You can't have great delts without great mass if, during precontest, you lose what you built during the offseason. We bring you bulking advice for delts - built on the basics of training and diet - from the Arnold Schwarzenegger era of bodybuilding science. By Lee Priest.
Training Science:
All-New: Power Isolations: A revolutionary workout for triceps mass and separation. Apply enough power to isolation movements and you'll have triceps bellies the size of muck buckets and scary separation on each triceps head. Yes, you can have it all! By Nasser El Sonbaty.
Nutrition:
The Bottom 10: In the never ending pursuit of a bodybuilding Zeitgeist for the '90s, we present the 10 biggest boners you can make with your bodybuilding diet. To achieve success, you must learn from both the successes and failures of the top bodybuilders. This month, failure is the play du jour. By Chris Aceto.
Advanced Nutrition: This month: Taking chromium to lose bodyfat; anaerobic exercise and carbohydrates; and maximizing GH release.
Supersection:
Brave New Drug World: To combat all the misinformation being promoted as fact in other publications and floating around in cyberspace on the Internet, Flex has enlisted the finest scientists and researchers to bring the truth to its readers. This is not a bible of drug usage; rather, it is a service to help readers make intelligent decisions and staying up to date on the vanguard of cutting edge research.

This month: The fourth in Flex's five part series on the doping program that fueled East Germany's sports machine. Chris Street on counterfeit Winstrol-V, plus the pros and cons of taking Glucotrol tablets to produce insulin; Jose Antonio, PhD, on clenbuterol and its impact on increasing muscle size; and more...
Pictorials:
Being a Man: Arnold Schwarzenegger Classic champ Flex Wheeler says he is tired of the whiners who claim that the measure of bodybuilders is nothing ore than mass. In these dramatic snaps, Flex gives his detractors a lesson on the true meaning of manhood.
More is Better: Melissa Coates, 1996 Jan Tana Classic champ, feels less inhibited about sharing her hard work with the world. Here's proof.
Backpacking! A step by step guide to hiking up your lat development from backpackers Craig Titus and Milos Sarcev.
Features:
The Francis Factor: Bev Francis fired the first shot in the women's bodybuilding revolution back in the 1980s. Her battle cry - "to show how hard and muscular and big a women can be" - ushered in a new era in the sport. Now, Team FLEX goes on the prowl to get a '90s perspective on Francis' much talked about career.
Free and Loathing in Las Vegas: Looking ahead to all out war at the 1997 NPC USA Championships.
Posters:
Melissa Coates / Lee Priest
Contests:
Four Wheeler Drive: Flex Wheeler runs over a Priest and a cop - in his own crib - to win a fourth Ironman Pro Invitational.
Battle of the Bay: Flex Wheeler returns to complete his clean sweep of the early season triple crown with a victory at the San Jose Pro Invitational - the bodybuilder's nepenthe.
Departments:
Bongiovanni Style
Factoids
Flex Files
Flex n Femme
Flextra
Hard Times
Hocus Focus
IFBB World Report
Mr. Olympia corner
Ms. Olympia corner
Musclehedz
NPC Report
Reader's Market
Talkback
---