---
Flex Magazine

For more information, call (800) 521-0303
---
August 1997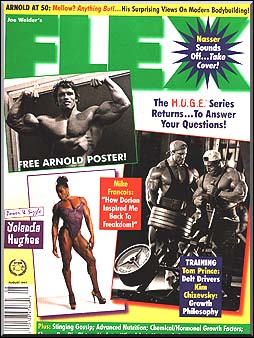 The August issue of Flex Magazine features the H.U.G.E. series returning to the magazine, while also featuring articles involving Tom Prince, Dorian Yates, and Mike Francois. Also, the last part of the East German Doping system, which is very interesting reading. Yolanda Hughes is the star in the Power & Sizzle section.
Flex Magazine considers themselves the bible of hardcore bodybuilding. Each month, Flex visits and speaks with the champions of bodybuilding at their gyms, at contests, and at their homes, gathering information and photographs, Flex brings you their latest strategies, and the competitive goals that they apply to further develop their title-winning physiques. Flex is the official magazine of the IFBB.


---
August 1997 - Table of Contents
Volume 15, Number 6
---
Bodybuilding:
Tear it Down! Tom Prince is so intense about training shoulders that he sent his kids packing to Minnesota for some quality time with the grandparents. In this provocative Q&A, learn the secrets to Prince's delt-training routine - children beware!

Getting Back! Dorian Yates and Mike Francois, two guys who have a reputation for training hard, go for broke in pursuit of a big, bad back. It was this brutal training session, shot right after the '96 Olympia, that inspired Francois is to change his physique for the '97 season. The result? A brand new Francois - with an awesome back - who snagged third at the Arnold Schwarzenegger Classic.
Training Science:
Heavy Traffic: When the pressure is on to beat the best, training heavy is the only way to go. Check out Ms. Olympia's practical primer on getting big, hard and ripped via a yearlong training program.

H.U.G.E.: The Ultimate Guide to Fundamentals: Team Flex has done it again! After breaking new ground with out 13 page H.U.G.E. series, we've decided to push the envelope further. We unveil a sneak preview of a monthly forum (debuting in our November issue) on training, dieting and motivation - everything you need to get big, hard and impressive. Send us your questions and we'll pass them along to our legion of bodybuilding savants - the IFBB pros - so that you too can get H.U.G.E. In this issue, Lou Gerrigno and Mike Quinn.
Nutrition:
Advanced Nutrition: Glycogen and exercise intensity; selenium and thyroid function; and the optimal dose of vitamin C for muscleheads!
Pictorials:
Charlie Classic: Charles Clairmonte sees himself as a sculptor who must constantly chip away at the rough edges to achieve the ideal form.
Muscle Balance: Ms. International Yolanda Hughes loves her muscularity. After viewing this month's Power & Sizzle, you'll know why.
Posters:
Yolanda Hughes
Arnold Schwarzenegger
Supersection:
Brave New Drug World: To combat all the misinformation being promoted as fact in other publications and floating around in cyberspace on the Internet, Flex has enlisted the finest scientists and researchers to bring the truth to its readers. This is not a bible of drug usage; rather, it is a service to help readers make intelligent decisions and staying up to date on the vanguard of cutting edge research.

This month: The eye popping conclusion to Flex's five part series on the doping program that fueled East Germany's sports machine. Chris Street on Bromantan, the secret Russian drug, and Laurabolin; the latest on testosterone gel; the connection between steroid use and liver damage; and much more...
Contests:
Mr. Olympia Special! When last the Coast was Host! Has it really been nine years since Lee Haney won the 1988 Mr. Olympia at the Universal Amphitheater, the last time this elite event took place in Southern California. Now the contest is returning to SoCal - it's set up for September 19 and 20 at the Long Beach Terrace Theater - we decided to take a look in the rearview mirror at the class of '88.

Victor Victorious: For the second consecutive year, Victor Konovalov parleyed his unanimous class win into the overall title at the NPC National Wheelchair Bodybuilding Championships.
Features:
'Now Hear This': Nasser El Sonbaty, the only athlete to refuse to be interview for Flex's Big Picture series, throws his fans a bone with plenty of meat on it in this no holds barred monologue.

Arnold: Still flexing and vexing! In this Flex exclusive, Arnold Schwarzenegger acknowledges the debt he owes to bodybuilding while also critiquing the current state of the sport that made him.

The Big Picture: The Shawn Ray file:
Departments:
Ask Mr. Olympia
Ask Ms. Olympia
Factoids
Flex n Femme
Hard Times
Hocus Focus
IFBB World Report
Moher Style
Musclehedz
NPC Report / Coming Events
Reader's Market
Talkback
Talent Roundup: Junior USA
Testosterone Alley
---