---
Flex Magazine

For more information, call (800) 521-0303
---
September 1997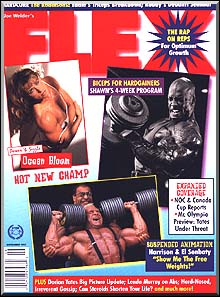 The September issue of Flex Magazine features a Mr. Olympia preview, complete with the 15 pro stars who may compete at Long Beach. Also, articles by Eddie Robbinson, Robby Robinson and Shawn Ray. Ocean Bloom is the star in the Power & Sizzle section. On the cover are Ocean Bloom, Shawn Ray, Ian Harrison and Nasser El Sonbaty.
Flex Magazine considers themselves the bible of hardcore bodybuilding. Each month, Flex visits and speaks with the champions of bodybuilding at their gyms, at contests, and at their homes, gathering information and photographs, Flex brings you their latest strategies, and the competitive goals that they apply to further develop their title-winning physiques. Flex is the official magazine of the IFBB.


---
September 1997 - Table of Contents
Volume 15, Number 7
---
Bodybuilding:
Rising from the Dead: The Black Prince resurrects the deadlift as the ultimate mass builder. With these staggering photos to inspire and enlighten, you'll be deadlifting the old school way in no time. By Robby Robinson.

Big Bellies and Nasty Cuts: Since no single exercise will hit all three heads of the triceps complex, Fast Eddie shows you how to use some movements that may appear ridiculous but could be the best way to reach this three headed monster of a muscle. By Eddie Robinson.

Four Weeks in Purgatory: Shelve your current biceps regimen for the next four weeks and get down with this crash course to ignite dormant volcanoes - your biceps peaks - in a crash and burn ball of fire. By Shawn Ray.
Training Science:
In Search of the Perfect Rep: Looking to add an element of quality to your physique? Take a long, hard look at how you perform your reps.
Nutrition:
Stalking the Optimal Offseason Diet: There's no need to turn into a fat tub of goo during the offseason. Laura Creavalle, headed for her 10th Ms. Olympia contest this November, designs the ultimate nutritional blueprint for building a championship physique.

Advanced Nutrition: This month: Boron as an anabolic agent; branched chain amino acids for dieting; and this classic stumper: Are high fat diets better for fat burning?
Pictorials:
Ocean Bloom, the 1997 British Columbia Junior Champion, is a 19 year old bodybuilder who exhibits charisma.

All About Heave:: Forget the superduper high tech machinery that can do everything short of revealing Pamela Lee's vital statistics. As mass masochists Ian Harrison and Nasser El Sonbaty tell it, the quickest way to shirt bursting size is to lift with heavy free weights.
Posters:
Ocean Bloom / Eddie Robinson
Supersection:
Brave New Drug World: To combat all the misinformation being promoted as fact in other publications and floating around in cyberspace on the Internet, Flex has enlisted the finest scientists and researchers to bring the truth to its readers. This is not a bible of drug usage; rather, it is a service to help readers make intelligent decisions and staying up to date on the vanguard of cutting edge research.

This month: The word from the street is that there are ways to counteract depression and muscle loss after a cycle; a recent study's flaws might jeopardize its findings; 'roid rages again; tendinitis or thyroid activity; and research findings descrambled by the Iron Egghead.
Contests:
Mr. Olympia Preview: Siege on the Beach: Just when you thought it was safe to come to Los Angeles, Joe Weider and the IFBB bring you an Olympia show that will shake the very foundation of Southern California. In this comprehensive assessment of the 1997 contest, we bring you 12 pages of exclusive behind the scenes reporting: Predictions from the athletes on who will win and why; the tale of the tape; a thumbnail sketch of the 15 man field of champions; what you'll see at this year's contests, and more.

Beasts of Broadway: Despite the absence of defecating livestock, this year's Night of Champions, a play in four acts, was a contest for the ages. Riveting coverage from start to finish.

First at Last! After falling short in his first 45 pro shows, Milos Sarcev dialed it in for contest number 46 to win the top prize at the Canada Cup in Toronto.
Features:
The Big Picture: The Dorian Yates File
Departments:
Ask Mr. Olympia
Ask Ms. Olympia
Factoids
Flex n Femme
Flextra
Hard Times
Hocus Focus
IFBB World Report
Murray Style
Musclehedz
NPC Report / Coming Events
Reader's Market
Straight from the Lip
Street Scene
Talkback
---