---
Flex Magazine

For more information, call (800) 521-0303
---
November 1997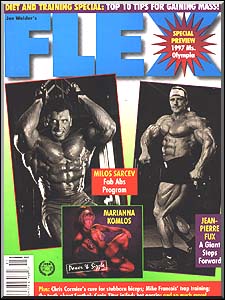 Flex Magazine considers themselves the bible of hardcore bodybuilding. Each month, Flex visits and speaks with the champions of bodybuilding at their gyms, at contests, and at their homes, gathering information and photographs, Flex brings you their latest strategies, and the competitive goals that they apply to further develop their title-winning physiques. Flex is the official magazine of the IFBB. Milos Sarcev, Jean Pierre Fux and Marianna Komlos are the cover.


---
November 1997 - Table of Contents
Volume 15, Number 9
---
Bodybuilding:
EXTRA MEAT COMBOS
Sandwich these exercises to carve beefier slabs for your biceps.
THE POWER TRAP
Bring up your lagging traps with a bit of the old shock treatment, a complete workout of power cleans, upright row and barbell shrugs every three or four weeks.
DEEP SIX
Refine and separate with an arsenal of ab exercises that stretch the muscles: hanging leg raises, cable crunches and twists for the intercostals and serratus.
H.U.G.E.: THE ULTIMATE GUIDE TO FUNDAMENTALS
Send us your questions on training and we'll pass the along to our legion of bodybuilding savants so that you too can get H.U.G.E. In this issue, Hamdullah Aykutlug and Tom Prince.
Nutrition:
10 QUICK TIPS TO BUILD MASS
Create the anabolic environment - in a flash - with the latest science on diet, hardcore training and high tech supplementation.
GLYCOGEN LOADING
When, how and why for the balls to the wall workouts.
ADVANCED NUTRITION
Comparing high carb and low carb diets; eating at night - assessing the weight gain, fat gain risk factors; the connection between glutamine and increasing muscle glycogen.
Features:
THE BOILERMAKER
Ken Brown, the newest IFBB pro, is a workingman's hero. Check out the strange but true story of this bodybuilder - cum - boilermaker.
THE IMPORTANCE OF BEING ERNEST
Ernie Taylor, the latest bodybuilding import from Britain, has become the poster child of Dorian Yates training laboratory - the Temple Street Gym in Birmingham, England. All the glory details on Taylor's amazing transformation.
Supersection:
PERFORMANCE SCIENCE
This month: Reality check on Synthol; vitamin E: the anticatabolic vitamin; drug testing in Denmark and much, much more.
Pictorials:
THE GATHERING STORM
Toiling away in mountainous isolation, Swiss phenomenon Jean Pierre Fux is the silent enigma of the pro ranks.
THE MAGIC OF EFFORT
With a desire to train since she was 10, Marianna Komlos' dedication is paying off.
Posters:
MARIANNA KOMLOS
MILOS SARCEV
Contests:
KIM VS. LENDA
Which Ms. will be a hit? In this FLEX exclusive, Lenda Murray and Kim Chizevsky outline their battle plans for the upcoming Ms. Olympia contest. Hardcore banter with the champs.
LESA LEWIS WINS WITH 'CLASSICAL MASS'
Complete coverage of the field of females at the 1997 NPC USA Championships.
Departments:
Ask Mr. Olympia
Ask Ms. Olympia
Factoids
Flex n Femme
Hard Times
Hocus Focus
IFBB World Report
Masino Style
Musclehedz
NPC Report / Coming Events
Reader's Market
Talkback
---