December 1997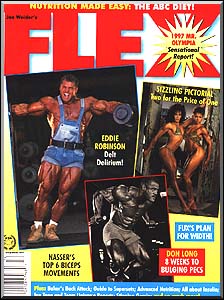 Flex Magazine considers themselves the bible of hardcore bodybuilding. Each month, Flex visits and speaks with the champions of bodybuilding at their gyms, at contests, and at their homes, gathering information and photographs, Flex brings you their latest strategies, and the competitive goals that they apply to further develop their title-winning physiques. Flex is the official magazine of the IFBB. Eddie Robinson, Don Long, Lisa Lowe and Kathy Aregullin are the cover.


---
December 1997 - Table of Contents
Volume 15, Number 10
---
Bodybuilding:
DELT DELIRIUM
You want big shoulders/ Then you have to throw around lots of weight. In this graphic user's guide to getting a pump from hell, FLEX presents the most intense shoulder workout you have ever seen. By Eddie Robinson.
CHEST IN TIME
If you're hardcore enough to handle the abuse, eight weeks is all it takes to build bigger, thicker pecs. By Don Long.
UNILATERAL ARMAMENT
We dare you to crawl into the trenches with the keeper of the deadly guns. Six exercises; nothing buy dumbbells, enough ammo to put your arms into the danger zone. By Nasser El Sonbaty.
H.U.G.E.: THE ULTIMATE GUIDE TO FUNDAMENTALS
Building wider shoulders with Jean Pierre Fux, back training tips from Aaron 'Batman' Baker.
BRING IN DA PUMP, BRING UP DA GUNS
Everything you ever wanted to know about supersets but were afraid to ask. These sizzling superset combinations for biceps and triceps provide rawboned excitement in every set and rep. By Melvin Anthony
Nutrition:
THE ABC DIET
Finally, here's a nutritional blueprint that will allow you to maximize your time in the gym. Rotating calories and carbs is the name of the ABC diet game.
ADVANCED NUTRITION
This month: The many wonders of creatine; carbs and fat; effects on moods, alertness and pain.
Performance Science:
A REAL BITCH
That's what you'll say after reading this primer on gynecomastia
ANDROSTENEDIONE: IS IT FOR REAL?
The latest scientific studies on the recently publicized testosterone precursor.
THE WORLD FROM THE STREET
FLEX addresses questions on thyroid supplementation and NSAID's.
THINKING OF INJECTING INSULIN? READ THIS FIRST
A cautionary tale about the use of insulin for anabolic purposes.
Pictorials:
FREAKENSTEIN SPEAKS
Paul Dillett, the lurking monster from Canada, rises from the smoldering rubble of the physique laboratory to present the shocking virtual reality of pulsating, vascular muscularity. Scream all you want, but Dillett will keep on coming.
WHEN WORLDS COLLIDE
Fitness and bodybuilding intersect quite nicely with the coupling of Lisa Lowe and Kathy Aregullin.
Posters:
LISA LOWE and KATHY AREGULLIN
DON LONG
Contests:
THE 1997 MR. OLYMPIA
Hot off the presses - sensational coverage of the Long Beach musclefest.
SHREDDED UNIVERSE
Robert Washington and Peggy Schoolcraft make the scene clean and lean at the 1997 NPC Team Universe Championships.
BONGIOVANNI STALKS VICTORY IN PANTHER COUNTRY
Chris Bongiovanni, nails poised and ready for the attack, scratches her way to the top at the 1997 Jan Tana Pro Classic.
HARUM-SCARUM
Theresa Hessler whips nine women at the 1997 Jan Tana Pro Fitness Classic
Features:
CZECH, PLEASE!
Jitka Harazimova, only 22, had the wide eyed, fresh faced innocence of a teenager with the quads and glutes of a full grown Bohemian beauty. Will this Czech born prodigy make a splash at the 1997 Ms. Olympia?
GRIDLOCK'D
An exclusive interview with Stan 'Curly Top' McCrary about his arrest for steroid trafficking. FLEX gets the inside story.
Departments:
Ask Mr. Olympia
Ask Ms. Olympia
Factoids
Flex n Femme
Future Flex
Hard Times
Hocus Focus
IFBB World Report
Musclehedz
NPC Report / Coming Events
Reader's Market
Straight From the Lip
Style: Hughes Style
Talkback