---
Ironman Magazine

For more information, call (800)
---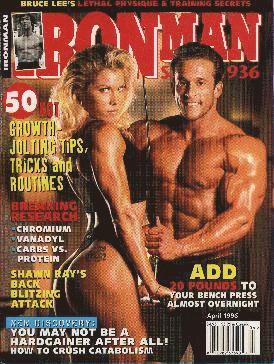 The April 1996 Ironman features an article containing 50 hot growth jolting tips, tricks and routine, which when read, actually contain a lot more tips. Also featured is an article about Bruce Lee's lethal physique and training secrets. And if you missed the excellent swimsuit issue last month, there a few more shots in the 'Hot Shot' section!
---
Since 1936, Ironman Magazine has been the magazine for bodybuilders. Each issue provides insights into bodybuilding, from nutrition, to lots of training info, to profiles on the men and women who make up the bodybuilding and fitness world. It also contains excellent pictures and information on almost anything you need.


---
Table of Contents - April 1996 issue
---
Superfeature
Growth Jolting Tips: Tricks & Routines
Training
Hardgainer: Resist the Temptation
Exercise of the Month: The Ab Bench Crunch Pull
Ironmind: Hardcore Hybrids
Lean & Clean: Getting a Good Starts
Hardcore Training: Charles Glass' Delts
POF: Lunges and Shrugs
Serious Growth: Aerobics? The continuing Saga
Ironteen: Student Eating
Do it Right! Back
Anabolic Forum: Are you Overtraining and Underachieving?
Fundamentals: Are Your Muscles Useful?
Muscle Meets Magnet: by Per A. Tesch, Ph.D.
Homebodies: A Bigger Bench
Mass Machine, Part 2: by Skip La Cour
Bruce Lee's Lethal Physique & Training Secrets
Shawn Ray's Back Blitz
Chest
Mass Acceleration vs. Mass Exodus: How to Trash the Word 'Hardgainer' Forever
Sets & Reps: Steroids and Tendons
Sportsmedicine: Shoulder Instability and Bench Press Pain, Part 2
Forever Natural: Confidence
My First Half Century in the Iron Game: by Arthur Jones
Periodization: by William A. Sands, Ph.D.
Nutrition
Breaking Nutrition Research
Interactive Bodybuilding
Gainer's Gourmet: Need for Speed
Profiles
Local Heroes: by David Chapman
Monica Brant: by Ruth Silverman
Insight
Book Review: Your Personal Trainer's Secret Recipe Book
Perspective: by Eddie Reider
Departments
Editorial
Reader's Write
News & Views
Mass Media
Pump & Circumstances
Venice Beach 90291
Marketplace
Main Events
Hot Shots
---