---
Ironman Magazine

For more information, call (800)
---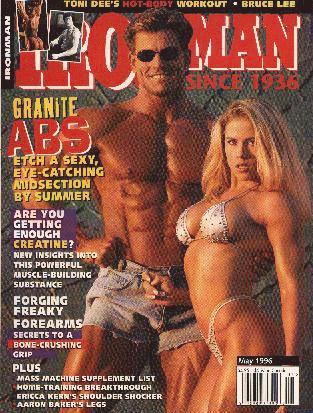 The May 1996 Ironman features articles on creatine, how to etch an eye catching midsection (abs) by summer, and how to forge freaky forearms, Also, ABB would like to thank Ruth Silverman for her mentioning our web page as an informative site, and one that she would definitely be consulting again in the future.
---
Since 1936, Ironman Magazine has been the magazine for bodybuilders. Each issue provides insights into bodybuilding, from nutrition, to lots of training info, to profiles on the men and women who make up the bodybuilding and fitness world. It also contains excellent pictures and information on almost anything you need.


---
Table of Contents - May 1996 issue
---
Training
Q&A: The Value of Olympic style Lifts:
Do It Right! Wheels of Fire
Hardcore Training: Ericca Kern's Shoulder Shocker
Ironmind: Racing for Results: Is making progress too fast dangerous?
Muscle Meets Magnet: MRI Exercise Analysis: An exciting book which looks at which area of a muscle are stimulated by certain exercises.
Serious Growth: Bulgarian Beliefs: Part 1 (Tom Platz & Leo Costa, Jr.)
Forewarned is Forearmed: Don't Let Those Neglected Forearms keep your Physique from Complete Perfection.
Secrets to a Powerful Grip: The Missing Link in Building Your Physique
Lean & Clean: Bodybuilding With an Open Mind (Skip LaCour)
Midsection Machete: How to Slice and Dice Your Abs From Every Angle
Positions of Flexion (POF): Biceps' Stretch Position
Bruce Lee's Lethal Physique and Training Secrets: Part 2
Aaron Baker's Killer Legs
Ageless Athlete: Upper Back Training
Forever Natural: Stubborn Bodyparts
Sets & Reps: Measuring Bodyfat in Bodybuilders
Nutrition
Creatine Monohydrate: Your Guide To This Bodybuilding Energy Booster
Mass Machine: Part 3: Supplementation Secrets of a Drug Free Champion: (by Skip La Cour)
Case for High Protein Diets: Satisfying the Demands of Muscle Hypertrophy
Profiles
Johnny G: Exercise Innovator Spins Aerobic Energy into Gold: Big Wheel
Fitness Profile: Toni Dee (By Ruth Silverman)
Insight
My First Half Century in the Iron Game: by Arthur Jones.
Departments
Book Review: Why Zebras Don't Get Ulcers
Championship Tips: What's your best Flirting Technique?
Editorial (by John Balik)
Homebodies: One Giant Set For Home Trainers
Hot Shots
Interactive Bodybuilding: How it Began
Ironteen: Should you Compete?
Local Heroes: Reader Physiques: Champions Young & Old: Karl Marshall, Jeremy Williams
Main Events
Marketplace
Mass Media: Muscles in the Manic World of the Media
Muscle Coach: Long range coaching system is the missing link?
News & Views
Perspective: Prescription for Bodybuilding
Pump & Circumstances: An excellent section by Ruth Silverman in which she she informs the readers about American Body Building's web site.
Reader's Write
Simply Fit: Egg-citing News
Venice Beach 90291
---