---
Ironman Magazine

For more information, call (800)
---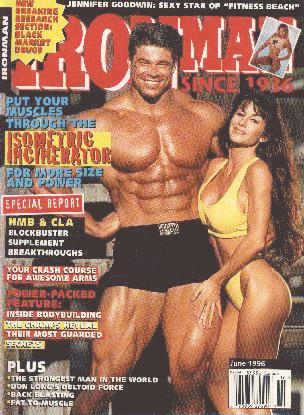 The June 1996 issue of Ironman Magazine has excellent articles on HMB & CLA, the strongest man in the world, Jennifer Goodwin, a crash course of big arms, Don Long's approach on how to build shoulders into boulders, and much more. Roland Kickinger and Amy Lynn appear on the cover.
---
Since 1936, Ironman Magazine has been the magazine for bodybuilders. Each issue provides insights into bodybuilding, from nutrition, to lots of training info, to profiles on the men and women who make up the bodybuilding and fitness world. It also contains excellent pictures and information on almost anything you need.


---
June 1996 - Table of Contents
---
Training
Exercise of the Month: Erector Crunch
POF: Forearm Flexor Contraction
Ironmind: Jack and the JND
Fundamentals: Systematic Progression
Muscle Coach
Hardcore Training: Jeff Poulin's Chest Chiseler: A photographic tour of how Jeff has pounded his pecs to ponderous proportions.
Inside Bodybuilding: Chris Faildo's Secret to Hardness
Widen Your V-Taper: How to attack your lats, traps, and every muscle in between for spectacular width and thickness in a time frame that will amaze you.
Homebodies: Springtime Mass Builder
Isometric Incinerator: It is time we rediscover isometrics. In the '60s, isometric exercise helped bodybuilders and weightlifters build awesome size and strength.
Muscle Meets Magnet: MRI Exercise Analysis
Sets & Reps: Negative Accentuated Exercise
Deltoid Force Starring Don Long: The 1995 NPC National champ shows you how to build your shoulders into boulders.
Crash Course for Big Arms: Steve Davis' radical approach for adding beef to your guns.
Ironteen: Self Esteem
Serious Growth: Bulgarian Beliefs, Part 2
Lean & Clean: Poundage vs. Form
Interactive Bodybuilding: Training Insights
Hardgainer: Stubborn Calves
Mind Pump: Mental Intensity
Nutrition
Breaking Research
Forever Natural: Creatine, Part 1
HMB and CLA: These two breaktrough substances are causing waves of excitement in the drug free bodybuilding camp. HMB and CLA, along with a cortisol suppressing supplement and creatine, can give you a growth spike that must be experienced to be believed.
Vitamin C
Profiles
Jennifer Goodwin: This vivacious athlete has been through some tough times, including almost dying from anorexia. Now, she's a changed women, her goals are set, and she's one of the stars of ESPN2's 'Fitness Beach'.
Mark Henry: The Strongest Man in the World: When he was 10 years old, Mark weight 220 pounds, now he tips the scales at 410, and you won't believe some of the poundages he's tossing around.
Insight
My First Half Century in the Iron Game: One Set to Failure Research: by Arthur Jones.
Departments
Anabolic Forum: Black Market Drugs
Book Review: Fat to Muscle Review: How to build lean mass as you melt away bodyfat
Editorial: A Short Recollection on Genius (by John Balik)
Hot Shots: Candid Photos: Our wild roving photographer gives you a peek at the Southern California muscle scene.
Main Events
Marketplace
Mass Media: Muscles in the Manic World of the Media
Muscle Coach:
News & Views
Power Cafe: Cigarette Sandwich
Practical Nutrition: Nutrition Research Update
Pump & Circumstances
Reader's Write
Venice Beach 90291
---