---
Ironman Magazine

For more information, call (800)
---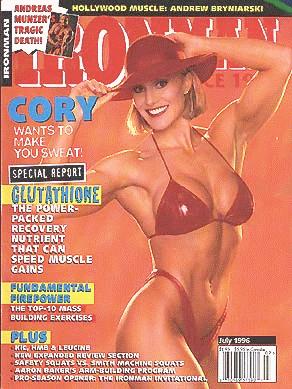 The July 1996 issue of Ironman Magazine features an excellent interview with Cory Everson. It also has lots of articles on training, KIC, HMB and Leucine, Growth Factors, and tips on the ten best mass moves you can do.
---
Since 1936, Ironman Magazine has been the magazine for bodybuilders. Each issue provides insights into bodybuilding, from nutrition, to lots of training info, to profiles on the men and women who make up the bodybuilding and fitness world. It also contains excellent pictures and information on almost anything you need.




---
July 1996 Table of Contents
---
Training
Lean & Clean: Dramatic Growth
Ironmind: Unconscious Assistance
Hardcore Training: Deborah Compton's Arms
Exercise of the Month: Seated Calf Raise
POF: Pec Range of Motion
Ironteen: It's All Relative
Serious Growth: Bulgarian Beliefs, Part Three
Muscle Coach: Squats
Safety Bar Squat vs. Smith Machine Squat
Muscle Meets Magnet: MRI Exercise Analysis
Sets & Reps: Leg Training and Foot Position
Fundamental Firepower
Aaron Baker's Cartoon Arms
Training Precision
Nutrition
Inside Bodybuilding: Henrik Thamasian's Perfect Answer
Breaking Research
Glutathione
HMB, KIC and Leucine
Profiles
Cory Everson
Andrew Bryniarski
Insight
Galaxy Fitness Camp
My First Half Century in the Iron Game: by Arthur Jones.
Contests
Fitness America
The Greatest Bench Press in America
Ironman Invitational
Departments
Anabolic Forum: Growth Factors
Championship Tips: Posing
Editorial: Leadership Starts at the Top
Forever Natural: Creatine, Part II
Homebodies: Your Home Gym
Hot Shots: Candid Photos
Interactive Bodybuilding
Main Events
Marketplace
News & Views
Power Cafe: Absession
Practical Nutrition: Growth with H2O
Pump & Circumstances
Reader's Write
Review: the hottest Books and Videos
---