---
Ironman Magazine

For more information, call (800) 570-IRON
---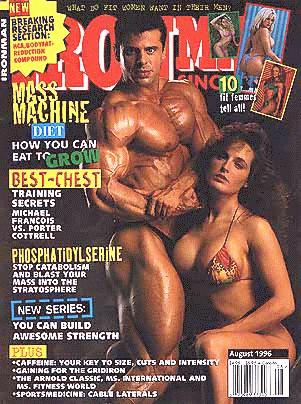 The August 1996 issue features articles including Skip La Cour and his tips and eating strategies; Bill Star, John Hopkins University Strength and Conditioning coach on the mystery of getting stronger; PS (Phosphatidylserine), the supplement that is controlling Cortisol production in the body, and interesting pictorials on What do Fit Women Wants, and on the Arnold Schwarzenegger Classic. Of course, there is much, much more.
---
Since 1936, Ironman Magazine has been the magazine for bodybuilders. Each issue provides insights into bodybuilding, from nutrition, to lots of training info, to profiles on the men and women who make up the bodybuilding and fitness world. It also contains excellent pictures and information on almost anything you need.


---
August 1996 Table of Contents
---
Exercise of the Month: Front Squat
Hardcore Training: Arne List's Abs
POF: Ab Solutions
Ironmind: Training Tablets
Lean and Clean: Split Schedules
Sets & Reps: The Best Warmup
Do It Right! Triceps
Muscle Coach: Squats: The Forgotten Exercise, Part 2
Chest: Michael Francois vs. Peter Cottrell
Biceps
Ironteen: Gaining for the Gridiron
Only the Strong Shall Survive
Homebodies: If it Hurts, Don't Do It
Q&A: Training is a Lifetime Thing
Ageless Athlete: A New Kind of Cross Training
Sportsmedicine: Cable Laterals
Departments
Ageless Athlete: A new Kind of Cross Training
Anabolic Forum: Hydroxycitric Acid
Editorial: by John Balik
Homebodies: If it hurts, Don't Do It
Hot Shots: Candid Photos
Interactive Bodybuilding
Ironmind: Going for the Gridiron
Marketplace / Main Events
Mass Media
News & Views
Practical Nutrition: Maximize Fat Burning
Pump & Circumstance
Readers Write
Review: The Hottest Books, Videos and Equipment
Venice Beach 90291
Nutrition
Breaking Research
Caffeine
Eat & Grow
Phosphatidyserine
Think Before You Drink
Insight
Andreas Munzer's Death: Beasts from the East Speak
Classic Photos
My First Half Century in the Iron Game by Arthur Jones
What Do Fit Women Want?
Contests
IFBB Arnold Schwarzenegger Classic
IFBB Ms. International
IFSB Ms. Fitness World
---