---
Ironman Magazine

For more information, call (800) 570-IRON
---
September 1996 issue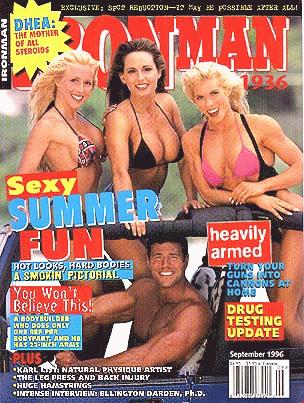 The September issue features a sexy summer pictorial featuring some of the hottest girls of fitness. Also, breaking research on DHEA, Treadmill Trauma, and Coenzyme Q10. Other articles include Sport Reduction and does it work?, Karl List, the Natural Physique Artists, and Championship Tips from five pros. Katy Rickman, Camille Jones, Jennifer Goodwin and Christian Boeving appear on this month's cover.
Since 1936, Ironman Magazine has been the magazine for bodybuilders. Each issue provides insights into bodybuilding, from nutrition, to lots of training info, to profiles on the men and women who make up the bodybuilding and fitness world. It also contains excellent pictures and information on almost anything you need.


---
September 1996 Table of Contents
---
Bodybuilding Blasphemy
Championship Tips: Beginning Results: Five top pros, including Vince Taylor and Paul Dillett, give you some insight into their genetic prowess as they answer the questions, What got you started in weight training, and how long did it take before you noticed appreciable results? Where these men big to begin with, or did weight training transform them from 98 pound weaklings?
Do It Right! Delts by Steve Cepello
Exercise of the Month: Lying Triceps Extensions
Hardcore Training: Valerie Scott's Arms: California champ
Homebodies: Heavily Armed at Home
Huge Hamstrings: Have you ever seen hamstrings that have peaks even when the knees are locked? In other words, hilariously huge hams. Here's how to get those awesome sweeps on the backs of your thighes.
Inside Bodybuilding: Rob Calacino's Unbelievable One Rep Per Bodypart Training: That's right! Rob Calacino does only one rep per bodypart, and he has 22 inch arms to show for it. Is this guy a fluke, or is his system the training wave of the future? Check out his unique style and judge for yourself. It;s definately ultra instense, and talk about brief workouts.
Ironmind: Active Recovery
Ironteen: Washboard Abs and Weight Gain Drinks
Lean and Clean: One Bodypart a Day Training
Muscle Coach
Only the Strong Shall Survive: Getting started on a Strength Program
POF: Pec Midrange Movement Overload
Serious Growth: Bulgarian Beleifs, Part Four
Sports Medicine: Leg Press and Lower Back Pain: The leg press can build massive quads, but is can also damage your lower back if you don't do as Joe Horrigan suggests.
Spot Reduction: We;ve been told that high reps don't burn fat from the target bodypart, especially not from the midsection, but the study behind this widely held belief may be flawed. Perhaps it's time to take another look at spot reduction.
Treadmill Trauma
Departments
Anabolic Forum: Drug Testing Update
Body Gourmet: Focus on Flavor
Editorial: by John Balik: People Make the Difference, Part Two
Forever Natural: Water
Hardgainer: Your two month Challenge
Hot Shots: Candid Photos
Interactive Bodybuilding: The Power of Emotion
Local Heroes
Marketplace / Main Events
News & Views by Lonnie Teper
Power Cafe: Pigs on Prozac
Practical Nutrition: Coenzyme Q10
Pump & Circumstance
Readers Write: Letters to the Editors
Review: The Hottest Books, Videos and Equipment
Venice Beach 90291
Nutrition / Profile
Breaking Research: Treadmill Trauma: Can motorized treadmills cause a dangerous muscle imbalance? This new information could help you avoid a serious injury.
DHEA: The mother of all Steroids: Here's the whole truth about this new super supplement that has the bodybuilding world buzzing!

Profile: Karl List: Natural, Physique Artist: This up and coming drug free bodybuilder is living proof that you can do it naturally. Check out his story, and his unique training split, for insight into his success.
Insight
Charles Moss
Ellington Darden, Ph.D.: Harder, Slower, Briefer
Sexy Summer Fun: Here are the hottest looks for hard bodies this summer, guaranteed to attract attention wherever you go. A smoking Pictorial!
My First Half Century in the Iron Game by Arthur Jones
---