---
Ironman Magazine

For more information, call (800) 570-IRON
---
October 1996 issue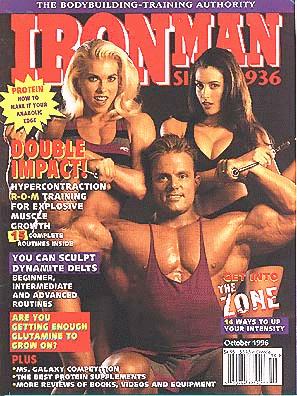 Ironman's new slogan, calling itself the 'Bodybuilding Training Authority' comes packed with lots of good info. The October issue brings you info on Hypercontraction ROM Training with 15 complete routines, and also how to build dynamite delts, for beginners, intermediates, and advances routines. Other articles include the importance of glutamine, the best protein supplements, and contest results and pictures on the Ms. Galaxy competition in Venice, California. Jennifer Goodwin, Amy Weber and Jeff Poulin appear on this months cover.
Since 1936, Ironman Magazine has been the magazine for bodybuilders. Each issue provides insights into bodybuilding, from nutrition, to lots of training info, to profiles on the men and women who make up the bodybuilding and fitness world. It also contains excellent pictures and information on almost anything you need.


---
October 1996 Table of Contents
---
Training
Ageless Athlete: A Question of Motivation
Bodybuilding in the Lab: Here are cutting edge studies on training that can affect your results. For example, do incline presses really hit your upper pecs better than flat bench presses? The answer will surprise you.
Dynamite Delt Training: Do you want to get that wide as an aircraft carrier look? Check out this feature for tips, techniques and routines on how to build shoulders like boulders.
Exercise of the Month: Curl Grip Lat Pulldowns
Fundamentals: Short and Intense Equal Better Workouts
Hardcore Training: Martial Cherrier, 1994 Venice Beach Champ, Blowtorches Biceps
Hardgainer: The Time is Now
Homebodies: Heavily Armed at Home: Triceps
Hypercontration ROM Training: If you are looking for a logical approach to boost your mass into the ozone, hypercontraction ROM training fits the description perfectly. It combines full range of motion routines with Double Impact reps for super fiber activation, and a growth stimulus you have to feel to believe. There are 15 complete bodypart routines to choose from, but be prepared for a skin stretching mass kicking pump.
Into the Zone: 14 Ways to up your intensity in the gym and turn your body into a mass machine from natural bodybuilder Skip La Cour
Ironmind: Angels and Edges
Ironteen: Down in Bristol
Lean & Clean: Focus on Biceps
Muscle Coach: The LIttle Secrets of Leg Training
Only the Strong Shall Survive: When in Doubt, Overload
POF (Positions of Flexion): People will take you for Granite
Priority in Motion: Critical Exercise Order: Yes, the order in which you do your exercises matters. In fact, it can significantly affect your muscle gains. This is information all bodybuilders should read!
Serious Growth: Bulgarian Beliefs, Part 5
Departments
Anabolic Forum: Protein: the Anabolic Edge: The latest research on why you should be getting more protein in your diet.
Editorial: by John Balik: Drug Testing, the first step
Hot Shots: Candid Photos
Interactive Bodybuilding: Supplemental Experimentation
Marketplace / Main Events
News & Views by Lonnie Teper
Practical Nutrition: Which is the best Protein supplement?
Readers Write: Letters to the Editors
Review: The Hottest Books, Videos and Equipment: The Bench Press Book, the Power-Back Belt, the Complete Home Fitness Handbook, and the Delt Force.
Sets & Reps: Bodybuilding: Equal Opportunity Activity
Nutrition / Profile
Breaking Research:
Glutamine

Profile: Joe DeAngelis, Mr. America: In this profile, he reveals the secrets of his success, including his complete training regimen.
Insight / Contests
1996 Ms. Galaxy
Charles Moss
Ellington Darden, Ph.D.: Harder, Slower, Briefer, Part 2: In part two of this interview with Ellington Darden, he discusses the recent experiment that packed 19 pounds of muscle on one man's frame in only 11 days. Unbelievable!
An Open Letter
What do Fit Women Want? Part Two gives you more insight into what fitness women in the world for looking for...
---