---
Ironman Magazine

For more information, call (800) 570-IRON
---
December 1996 issue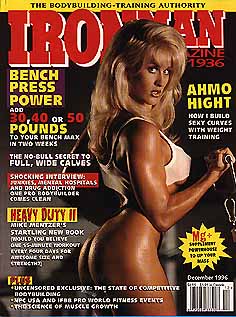 Mike Christian's heart-felt story about his life, drugs, and bodybuilding is excellent reading. So are the pictures and story of Ahmo Hight, who is in extremely excellent shape! Also, a review on Mike Mentzer's new book, who claims that a 15 minute workout every four days can get you awesome size and strength. Also, Mg (do you remember what is stands for?) is an important part of the bodybuilder's diet.
Since 1936, Ironman Magazine has been the magazine for bodybuilders. Each issue provides insights into bodybuilding, from nutrition, to lots of training info, to profiles on the men and women who make up the bodybuilding and fitness world. It also contains excellent pictures and information on almost anything you need.


---
December 1996 Table of Contents
---
Training
Exercise of the Month: Seated Dumbbell Presses
Ironmind: Grow with the Flow
Inside Bodybuilding: Jeff Poulin
Lean & Clean: How Many Calories?
How to Muscles Get Bigger?
Pure Donkeys: The no bull secret to full, wide calves. If you want lower legs that beg for bell bottom pants to come back in style, check out this article. Vascular inverted hearts perched ominously behind your knees are what you'll get after you apply this eye opening, calf building technique.
Bench Press Power: The bench press is everybody's number one strength guage, which means you need a bad ass bench poundage to get respect. Here are all the tips and tricks you need to power up heavy iron, info that may have you adding 50 pounds to the bar in only a few workouts.
Only the Strong Shall Survive: The Heavy, Medium and Light System
POF: Weird Science
Hardcore Training: Cathy LeFrancois' Back
Fundamentals: Myths about Weight Training, Part 2
Muscle Coach: Chest Size
Bodybuilding Basics
Serious Growth: Do you know Squat?
Hardgainer: Life Beyond the Big Three
Upside Down Bodybuilding: Outright Hard Work
Home Grown: Soleus Sabotage
Departments
Anabolic Forum: High Tech Supplementation
Bodybuilding Basics:
Editorial: A clear view of the future: by John Balik
Hot Shots: Candid Photos
Interactive Bodybuilding:
Marketplace / Main Events
News & Views
Pump & Circumstance
Practical Nutrition: High Fats Diets and Male Aggression
Readers Write: Letters to the Editor
Reviews: Heavy Duty II, Dinosaur Training, More Muscle
Nutrition / Profiles
Born Again Christian: Mike Christian's story on life, drugs, and his world.
Fitness Profile: Ahmo Hight: With weight training for women growing by leaps and bounds, fitness competitors like Ahmo Hight are in demand. Ruth Silverman takes a look at this popular athlete and model, who at one time was a promising gymnast coached by Bela Karolyi.
Breaking Research
Magnesium: The studies are in, and if you are interested in upping your size and strength, start taking this mineral immediately.
Insight / Contests
IFBB Pro World Fitness Championships
NPC USA Fitness Championships
IFBB Florida Pro Fitness Championships
NPC USA Bodybuilding Championships
The State of Competitive Bodybuilding, Part 2:
---