---
Ironman Magazine

For more information, call (800) 570-IRON
---
January 1997 issue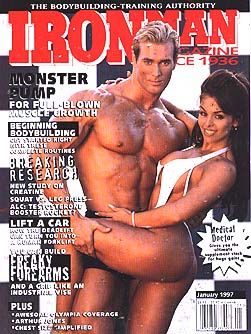 Happy New Year! January 1997 features a lot of good articles, including a creatine study, squat vs. Leg Press, bodybuilding basics, and a profile on Milos Sarcev. Ironman is one of the few magazines that does not excessively promote its own line of supplements, which may possibly mean that more unbiased articles & info are in the magazine. Mike O' Hearn and Midajah appear on the cover.
Since 1936, Ironman Magazine has been the magazine for bodybuilders. Each issue provides insights into bodybuilding, from nutrition, to lots of training info, to profiles on the men and women who make up the bodybuilding and fitness world. It also contains excellent pictures and information on almost anything you need.


---
January 1997 Table of Contents
---
---
Table of Contents - January 1997 issue
---
Training
Ask the Expert: Layoffs
Bodybuilding Basics: Beginning Bodybuilding: Three Days a Week: Here are two complete routines to get you or someone you love started building muscle the right way. This info comes from one of the top trainers in Southern California, Mike Torchia, who's now the celebrity muscle correspondent on the TV show "Extra".
Bodybuilding in the Lab: Squat vs. Leg Press
Championship Tips: How do you bring up a lagging chest? Drug Free bodybuilder Chris Faildo chisels chest.
Exercise of the Month: Incline Dumbbell Curls
Freaky Forearms:
Fundamentals: Myths about Weight Training, Part 3
Hardcore Training: Mario Carrier's Delts
Home Grown: EZ does it?
Inside Bodybuilding: Milos Sarcev: Top pro Milos discusses the mind / muscle connections that makes good bodybuilders great. Is this the secret that takes muscle mass to the next level?
Ironmind: Progress: It's your responsibility
Ironteen: The only thing we have to fear...
Lean & Clean: Motivational Factors by Skip La Cour
Monster Pump: How to get a better pump every time you hit the gym, and send your muscle growth to a new dimension.
Muscle Coach: Big Chest, Part 2
Only the Strong Shall Survive: Proportionate Strength System
POF: Full Range Back Attack
Upside down bodybuilding: The importance of rest
Nutrition
Breaking Research
ALC: Is this the testosterone booster rocket the bodybuilding work has been waiting for.
Profiles
Born Again Christian, Part 2
Insight
My First Half Century in the Iron Game: by Arthur Jones
State of Competitive Bodybuilding, Part 3
Contests
Departments
Anabolic Forum: High Tech Supplementation, Part 2
Body Gourmet: Welcome to Juicing
Editorial: by John Balik
Fundamentals: Myths about Weight Training, Part 3
Hot Shots: Candid Photos
Interactive Bodybuilding: Starting Out Right
Marketplace/Main Events
Mass Media: Posing at the Olympics
News & Views
Practical Nutrition: New Creatine Study: New evidence says there is a better way to use it!
Pump & Circumstances
Reader's Write
Review: Hypercontraction Training
---