---
Ironman Magazine

For more information, call (800) 570-IRON
---
February 1997 issue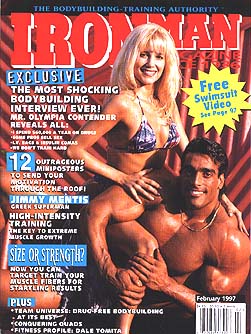 A Mr. Olympia contender tells the truth about of some pros try to get ahead in a contest. It is a shocking, somewhat shameful life of some bodybuilders. Other interesting items are 12 full page miniposters that help you with motivational training pictures to get you through those workouts. Profiles in clude Jimmy Mentis, and Dale Tomita. On the cover is German Superman Jimmy Mentis with Samatha Kelly.
Since 1936, Ironman Magazine has been the magazine for bodybuilders. Each issue provides insights into bodybuilding, from nutrition, to lots of training info, to profiles on the men and women who make up the bodybuilding and fitness world. It also contains excellent pictures and information on almost anything you need.


---
February 1997 Table of Contents
---
Training
Ageless Athlete: Peak Perfection
Conquering Quads: Three complete routines to turn your twigs into mighty oaks before you can say 'squat'.
Exercise of the Month: Leg Press
Forever Natural: Blasting Past a Sticking Point
Fundamentals: Myths about Weight Training, Part 4
Hardcore Training: Andurlla Blachette's Back
Hardgainer: One Man's Meat
High Intensity Training: Is it the key to the most rapid muscle growth possible?
Home Grown: 20 megaton Quad Hits - in Total Comfort
Inside Bodybuilding: Greg Kovacs
Ironmind: Atlases in Atlanta
Lean & Clean: Mental and Physical Growth
Mass vs. Strength: Article on how fast twitch fiber types work, with fiber specific workouts.
Muscle Coach: High Rep Abdominal Training
Only the Strong Shall Survive: Setting Up your strength
POF: Better Form, Bigger Arms
Twelve Outrageous Training Miniposters: 12 full page shots that will set your motivation on fire.
Upside down bodybuilding: How fast is slow?
Nutrition
Supplement Review
Brave New Drug World
Profiles
Dale Tomita: Fitness Profile
Jimmy Mentis: The Greek Hurcules, with his exotic good looks and fabulous symmetry, is taking the bodybuilding world by storm.
Insight
My First Half Century in the Iron Game: by Arthur Jones
State of Competitive Bodybuilding, Part 4
Contests
NPC Team Universe Men's Championships
NPC Team Universe Women's Championships
NPC Fitness National Championships
Departments
Editorial: by John Balik
Hot Shots: Candid Photos
Marketplace
News & Views
Pump & Circumstances
Reader's Write
Review: Craig Titus: The Video, Mastery of Hand Strength, Nutrition Navigator
---