---
Ironman Magazine

For more information, call (800) 570-IRON
---
March 1997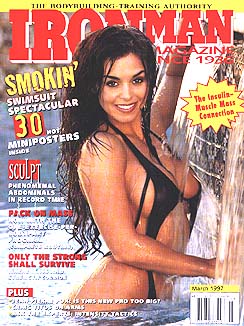 The March 1997 issue features the annual swimsuit spectacular, featuring 30 pages of scantily clad fitness women, including Christine Lydon, a favorite of ours. Other interesting articles is one with Craig Titus, the reigning NPC USA Heavyweight Champion. Fitness model Midajah appears on the cover.
Since 1936, Ironman Magazine has been the magazine for bodybuilders. Each issue provides insights into bodybuilding, from nutrition, to lots of training info, to profiles on the men and women who make up the bodybuilding and fitness world. It also contains excellent pictures and information on almost anything you need.


---
March 1997 - Table of Contents
---
Training:
Ask the Experts: Intensity by the Editors Ageless Athlete: Peak Perfection
Craig Titus: An indepth article with this hot new pro, and Titus reveals all, including the arm routine that turned his guns into cannons.
Exercise of the Month: Dips
Fundamentals: Myths about Weight Training, Part 5
Hardcore Training: Lisa Jaminson's Delts
Hardgainer: How to take Charge
Home Grown: Wider Wings without Pulldowns?
Inside Bodybuilding: Jean-Pierre Fux
Interactive Bodybuilding: Measuring Success
Ironmind: Training: It's good mood food
Ironteen: Power Cycle
Muscle Coach: Periodization
Only the Strong Shall Survive: Tailoring your strength
Phenomenal Abdominals:
POF: Back Talk
Size Simplicity: One exercise per bodypart: Here is a routine that will do it.
Sportsmedicine: Incline Presses
Upside down bodybuilding: Muscular Cats
Nutrition:
Insulin: What is this hormone's connection to muscle growth, and are there ways to stimulate it naturally.
Practical Nutrition: Chromium
Profiles:
Insight:
My First Half Century in the Iron Game: by Arthur Jones
State of Competitive Bodybuilding, Part 5
Superfeature:
Smoking Swimsuit Spectacular: 30 hot minipostes of the most beautiful, fittest women in the world.
Departments:
Body Gourmet: It's all in the sauce
Editorial: by John Balik
Forever Natural: Glutamine for Growth Hormone Release
Hot Shots: Candid Photos
Marketplace
News & Views
Power Cafe: Scarlet Letters
Pump & Circumstances
Reader's Write
---