---
Ironman Magazine

For more information, call (800) 570-IRON
---
April 1997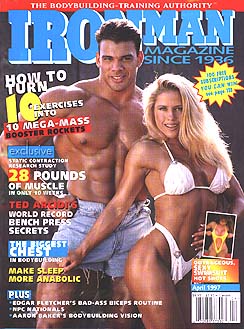 The April 1997 issue features interesting articles, including 10 exercises to turn into 10 mega mass booster rockets. Also, Ted Arcidi's world record bench press secrets revealed, and Greg Kovac's, the biggest chest in bodybuilding. Bodybuilder Frank Sepe and Fitness model Monica Brant appear on this months cover.
Since 1936, Ironman Magazine has been the magazine for bodybuilders. Each issue provides insights into bodybuilding, from nutrition, to lots of training info, to profiles on the men and women who make up the bodybuilding and fitness world. It also contains excellent pictures and information on almost anything you need.


---
April 1997 - Table of Contents
---
Training:
Ageless Athlete: Reaching another level
Big Bench: Ted Arcidi's Bench Press Secrets
Biggest Chest in Bodybuilding: Greg Kovacs is closing in on 300 pounds of raw muscle, and his humongous chest is a vast array of mind blowing striations and solid slabs of beef. How did he build such ponderous pecs? All of his techniques are here, including his complete pec-pounding program.
Exercise of the Month: Pullups
Hardcore Training: Edgar Fletcher's Biceps
Home Grown: Wider Wings without Pulldowns?
Inside Bodybuilding: Aaron Baker
Ironmind: Repeat for Defeat
Ironteen: Curse of the Tall Man
Muscle Coach: Periodization, Part 2
Only the Strong Shall Survive: Overtraining
Q&A: Don't let a layoff get you down
Sportsmedicine: Training to Failure
Static Contraction Research Study: Would you believe 28 pounds of muscle in 10 weeks from merely holding a weight and contracting the target muscle? It happened. Here's how.
Ten Mega Mass Boosters: Pack on more size per set with these technique tweaks. They can make some movements 20 times more effective.
Terrifying Traps: If you're after a most muscular pose that scares the hell out of people, trap specialization is the key. Here are three routines that will freak out your trap muscles and have them up near your ears when you hit your favorite crab shot.
Upside down bodybuilding: Extremely Slow Repetitions
Nutrition:
Sleep and the Anabolic Process
Ciwujia: Fat Burning Herb
Profiles:
Fitness Profile: Brandi Hale
Insight:
My First Half Century in the Iron Game: by Arthur Jones
State of Competitive Bodybuilding, Part 6
Contests:
NPC National Championships
Departments:
Editorial: by John Balik
Hot Shots: Candid Photos
Marketplace
News & Views
POF: High Fat Diet
Pump & Circumstances
Practical Nutrition: Glycine and Growth Hormone Release
Reader's Write
Reviews: Kevin Levrone is Full Blown
Reviews: Creatine: Nature's Muscle Builder
Survey: 100 Free Subscriptions: You can win!
---