---
Ironman Magazine

For more information, call (800) 570-IRON
---
July 1997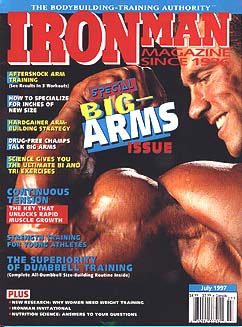 Since 1936, Ironman Magazine has been the magazine for bodybuilders. Each issue provides insights into bodybuilding, from nutrition, to lots of training info, to profiles on the men and women who make up the bodybuilding and fitness world. It also contains excellent pictures and information on almost anything you need.


---
July 1997 - Table of Contents
---
Training:
Compound Arm Training
Continuous Tension: Counting reps can be hazardous to your gains. You should be concentrating on the target muscle, creating optimal tension and striving for total muscular contractions. This may be the answer you've been looking for to blast past your plateaus.
Exercise of the Month: Deadlifts
Hardcore Training: Janet Marchi attacks Quads
High Intensity: Jeff Blithe
Home Grown: Machine-free Calf Training
Inside Bodybuilding: Ron Coleman's Delts
Ironmind: Plunge in for progress
Muscle Coach: Situps are back! Part 2
Only the Strong Shall Survive: Strength training and the young athlete - a must reading for all mentors, big brothers, trainers, coaches, and of course, youngsters looking for more strength.
POF (Positions of Flexion): Multi-angular training for full development
Q&A: Overtraining
Stay Grounded for Bigger Guns
Superiority of Dumbbells: More and more bodybuilders are choosing dumbbells over barbells and machines and for good reasons: more muscle stimulation, from stabilizers to prime movers. Here are the reason 'bells work so well along with a complete size building dumbbell only routine.
Ted Arcidi's Rise from the Ashes, Part 2
Training Secrets: Exploiting your maximum potential
Upside down bodybuilding: Metabolic Work
Will Willis' Drug Free Arm Assault
Women Need Weight Training
Nutrition:
Breaking Research: The Steroid Cholesterol Connection
Superfeature:
Big Arms: Here is a science based strategy with all the ingredients for ultimate arm mass: the best exercises according to MRI analysis, max fiber recruitment and growth jolting supersets. Try it and soon people will think you have 20 pound hams stuffed in your shirtsleeves.
Insight:
My First Half Century in the Iron Game: by Arthur Jones
State of Competitive Bodybuilding, Part 9
Contests:
IFBB Ironman Pro Invitational
Departments:
Body Gourmet: Just Stew It
Editorial: by John Balik
Hot Shots: Candid Photos
Marketplace / Main Events
News & Views by Lonnie Teper
Nutrition Science: Your nutrition questions answered
Pump & Circumstances:
Reader's Write
Reviews: Weight Training Technique, "Sexy Swimsuit Spectacular #2", and Steve Reeves' new book.
---