---
Ironman Magazine

For more information, call (800) 570-IRON
---
September 1997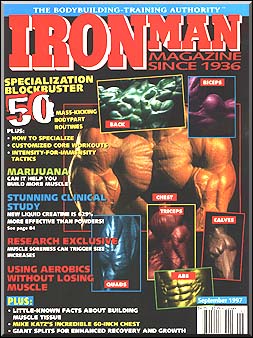 Since 1936, Ironman Magazine has been the magazine for bodybuilders. Each issue provides insights into bodybuilding, from nutrition, to lots of training info, to profiles on the men and women who make up the bodybuilding and fitness world. It also contains excellent pictures and information on almost anything you need.


---
September 1997 - Table of Contents
---
Training:
Ask the Experts: Full Body Routines.
Critical Mass (formerly POF: Positions of Flexion): Compound vs. Isolation Exercises. What is the difference?
EMG Exercise Analysis: Curls
Exercise of the Month: Hypertensions
Fat Burning at Rest:
Fifty Specialization Attacks:
Giant Splits:
Hardcore Training: Paula Suzuki fries Bi's
High Intensity: Can you prescribe a specific frequency of training?
Home Grown: Advanced whole-body training
Ironmind: Gene Genie. Genetics?
Mass from the Past: Mike Katz's 6- inch chest
Muscle Coach: Situps are back! Part 4
Muscle Soreness Part One: How you can use it to maximize hypertrophy
Only the Strong Shall Survive: Aerobics and strength training
Q&A: Basic weight training facts
Specialize for more Muscle Size: How to crank up growth where you need it the most?
Strengthen those Sinews:
Training Secrets: Little Known Facts about building muscle tissue
Upside down bodybuilding: Relax your face
Nutrition:
Marijuana: Waiting to Exhale:
Inside Bodybuilding: Lee Lebrada: Getting Ripped
Liquid Creatine
Supplement Stacking: Sales Gimmick or Real Science
Superfeature:
Insight & Profiles:
Profile: Frankie Lee Wright
My First Half Century in the Iron Game: by Arthur Jones
State of Competitive Bodybuilding, Part 11
Happy 50th Birthday, Arnold
Contests:
Ms. Fitness USA
Ms. Fitness World
Departments:
Body Gourmet: Cool on a hot summer night
Editorial: by John Balik
Hot Shots: Candid Photos
Marketplace / Main Events
News & Views by Lonnie Teper
Nutrition Science: Hot Peppers and Fat Loss
Pump & Circumstances:
Reader's Write
Reviews: new books.
---