---
Ironman Magazine

For more information, call (800) 570-IRON
---
October 1997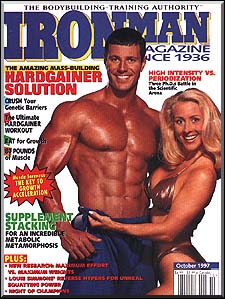 Since 1936, Ironman Magazine has been the magazine for bodybuilders. Each issue provides insights into bodybuilding, from nutrition, to lots of training info, to profiles on the men and women who make up the bodybuilding and fitness world. It also contains excellent pictures and information on almost anything you need. Christian Boeving and Katy Rickman are on the cover.


---
October 1997 - Table of Contents
---
Training:
Critical Mass: Lat Trap Biomechanics
EMG Exercise Analysis: Triceps Exercises
Exercise of the Month: Vertical Leg Presses
Fitness Formula: Staying motivated
Fundamental Is your training program realistic?
Hardcore Training: Justin Brooks shocks shoulders
Hardgainer Solution: If you have a hard time packing on mass, here are the reasons why, and what you can do to shatter your genetic barriers. Everything is here: what makes muscle hypertrophy, how to eat to grow and the ultimate hardgainer routine that will get you bigger than you've every been.
High Intensity: High intensity training vs. Periodization
Home Grown: Contract your lower back
Inside Bodybuilding: Roberto's Morisho's Mighty Chest
Ironmind: World Class confidence
Mass from the Past: Don Peters: A classical study of physical perfection
Maximum Effort vs. Maximum Weight: Which triggers the most growth?
Muscle Coach: Navy Seals
Muscle Soreness Part Two: How you can use it to maximize hypertrophy
Only the Strong Shall Survive: Hard Times
Reverse Hyper Machine:
Sportsmedicine: Twisting Hypers
Spot Reducing:
Training Secrets: Weight gain techniques by Vince Gironda
Why most bodybuilders press the wrong way?
Nutrition:
On the Edge: James Bradshaw
Supplement Stacking: Part 2: How to get the most muscle growth bang for your hard earned bucks.
Superfeature:
Insight & Profiles:
Profile: Christian Boeving
My First Half Century in the Iron Game: by Arthur Jones
State of Competitive Bodybuilding, Part 12
Contests:
IFBB Night of Champions
IFBB World Professional Fitness Championships
Departments:
Body Gourmet: Cool on a hot summer night
Editorial: by John Balik
Forever Natural: The Glycemic Index
Hot Shots: Candid Photos
Interactive Bodybuilding
Marketplace / Main Events
News & Views by Lonnie Teper
Nutrition Science: Artificial Sweeteners
Point Counterpoint: One Set to Failure: The Lazy Man's Way to a crappy physique.
Pump & Circumstances:
Reader's Write: Letters to the editor
Reviews: Beginning Bodybuilding
---