---
Ironman Magazine

For more information, call (800) 570-IRON
---
November 1997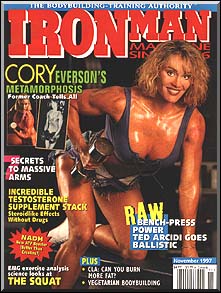 Since 1936, Ironman Magazine has been the magazine for bodybuilders. Each issue provides insights into bodybuilding, from nutrition, to lots of training info, to profiles on the men and women who make up the bodybuilding and fitness world. It also contains excellent pictures and information on almost anything you need. Cory Everson is on the cover.


---
November 1997 - Table of Contents
---
Training:
Ask the Experts: Weight Training to Lose Weight
Critical Mass: Bodyparts Hits per Week
Do it Right! Triceps Pushdowns
EMG Exercise Analysis: Squats
Exercise of the Month: Close Grip Bench Presses
Fitness Formula: Biceps
Hardcore Training: Rita Dytuco
Hardgainer: Real World Dedication
High Intensity: Figure / Ground Reversal
Home Grown:
Ironmind: Private Parts
Mass from the Past: Freddy Ortiz's Arms
Muscle Coach: Situps are Back! Part 5
Muscle Soreness Part Three: How you can use it to maximize hypertrophy
Only the Strong Shall Survive: The Value of Change
Q&A: Traing for Yourself
Raw Bench Press Power:
Right Start: Back to Drugs?
Row, Row, Row that Bar:
Training Secrets: Train 21 Days, Rest Seven by Vince Gironda
Nutrition:
Conjugated Linoleic Acid:
Testoserone Stack: The testosterone boosting supplement stack that can produce druglike gains.
Superfeature:
Cory Everson's Training Secrets, Part 1: Cory went fron a skinny track star to one of the most aesthetically pleasing women bodybuilders to ever grace a posing dais. Here's how she made her spectacular transformation - information that's straight from her former coach and ex-husband, Jeff Everson, who tells it like it was.
Seven Secrets to Incredible Arms: Larry Scott, architect of perhaps the best guns in bodybuilding, tells you how to get yours huge, full and vascular.
Insight & Profiles:
My First Half Century in the Iron Game: by Arthur Jones
State of Competitive Bodybuilding, Part 13
Departments:
Body Gourmet: Knowledge is Power
Editorial: Real Bodybuilding Defined by John Balik
Forever Natural: Sugar
Hot Shots: Candid Photos
Interactive Bodybuilding
Marketplace / Main Events
News & Views by Lonnie Teper
Nutrition Science: Vegetarian Bodybuilders, NADH
Point Counterpoint: Do Hardgainers Exist?
Power Cafe: Singing in Ebonics
Pump & Circumstances:
Reader's Write: Letters to the editor
Reviews: Power Factor Training
Upside Down Bodybuilding: Metabolic Breakthrough proves food is the most powerful drug on earth.
---