---
Ironman Magazine

For more information, call (800) 570-IRON
---
December 1997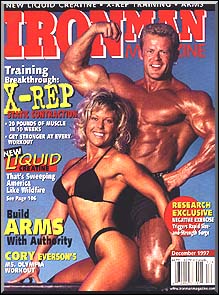 Since 1936, Ironman Magazine has been the magazine for bodybuilders. Each issue provides insights into bodybuilding, from nutrition, to lots of training info, to profiles on the men and women who make up the bodybuilding and fitness world. It also contains excellent pictures and information on almost anything you need. Art Dilkes and Mali Utz appear on the December 1997 cover.


---
December 1997 - Table of Contents
---
Training:
Arms with Authority: Hereís the routine that turned a pair of hardgainer arms into vascular sides of beef, along with tips on getting your biís and triís to fill out your shirt sleeves.
Cory Eversonís Training Secrets: Part Two: Her former coach tells all!
Critical Mass: The Myotatic Reflex and Fiber Activation
EMG Exercise Analysis: Scientists give you the lowdown on Calf Exercises
Exercise of the Month: Dumbbell Pullovers
Fitness Formula: Fighting Fat by Sherry Goggin-Giardina
Fundamentals: Trust Yourself
Hardcore Training: Teddy Broussard Chisels Chest
High Intensity: Chronology of a One Set Deadlift Routine
Home Grown:
Ironmind: In Charge of Champions
Mass from the Past: Dave Dupreí
Muscle Coach: Situps are Back! Part six!
Muscle Soreness: Part Four
New Studies on Growth Hormone Release
Only the Strong Shall Survive: Warming Up
Research Exclusive: Eccentric Exercise: Negative exercises triggers rapid size and strength surge, plus new studies on growth hormone release, and HMB-creatine stack study.
Right Start: Can You Feel it?
Nutrition:
Superfeature:
X-Rep Static Contraction: Hereís the technique thatís giving bodybuilders everywhere unbelivable gains in mass and strength. How about more than 20 pounds of muscle in 10 weeks? Thatís what one subject reported using this isometriclike method with a time progression factor.
Insight, Profiles, Contests:
Art Dilkes
Mel Rich & Bodyonics
My First Half Century in the Iron Game: by Arthur Jones
Contests: NPC USA
Departments:
Editorial: Stronger, Happier, Healthier by John Balik
Hot Shots: Candid Photos
Interactive Bodybuilding
Marketplace / Main Events
News & Views by Lonnie Teper
Nutrition Science: HMB + Creatine
Point Counterpoint: Does more strength equal more size?
Pump & Circumstances:
Reader's Write: Letters to the editor
Reviews: Road to the Olympia, Hardbodies
Upside Down Bodybuilding: Metabolic Breakthrough
---