March 1998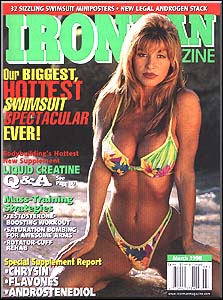 Since 1936, Ironman Magazine has been the magazine for bodybuilders. Each issue provides insights into bodybuilding, from nutrition, to lots of training info, to profiles on the men and women who make up the bodybuilding and fitness world. It also contains excellent pictures and information on almost anything you need. Amy Lynn appears on the cover.


---
March 1998 - Table of Contents
Volume 57, Number 3
---
Training:
Building an Extraordinary Back:
Critical Mass: Size Surge: Deadlifting in Phase 2
EMG Exercise Analysis: Hamstring Exercises, Part 2
Exercise of the Month: Good mornings
Exercise Science: Angle Training
High Intensity: Adventures with Slower Repetitions
Ironmind: Dealing with Disappointments
Mass from the Past: Sergio Oliva's Saturation Bombing for Awesome Arms
Muscle Coach: Leg Extensions
Only the Strong Shall Survive: Strength Training and the Older Athlete
Questions & Answers:
Right Start: Stop Searching for a Magic Bullet
Scientific Bodybuilding, Part 3: Endocrine Pulse Training
Sportsmedicine: Rotator Cuff Rehab
Training Tempo: Rep speed and how you can manipulate it for serious muscle growth and strength gains.
Upside Down Bodybuilding: Mailbag, Part 1
Nutrition:
Liquid Creatine Q&A:
Legal Androgen Stack:
Brave New World:
Superfeature:
Swimsuit Spectacular: Winter is upon us, so here's some much needed fuel to heat up your motivation - more than 30 hot miniposters of some of the fittest, sexiest women in the world.
Insight & Profiles:
Departments:
Body Gourmet: Muscle Salsa
Editorial: by John Balik
Hot Shots: Candid Photos
Interactive Bodybuilding
Marketplace / Main Events
News & Views by Lonnie Teper
Nutrition Science:
Point Counterpoint: Bodybuilding an Olympic Sport?
Pump & Circumstances: Fitness News
Reader's Write: Letters to the editor
Reviews: Underground Mass Boosting Methods