April 1998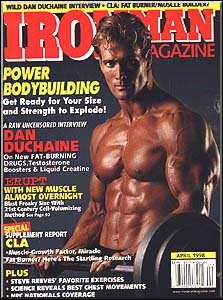 Since 1936, Ironman Magazine has been the magazine for bodybuilders. Each issue provides insights into bodybuilding, from nutrition, to lots of training info, to profiles on the men and women who make up the bodybuilding and fitness world. It also contains excellent pictures and information on almost anything you need. Mike O' Hearn appears on the cover.


---
April 1998 - Table of Contents
Volume 57, Number 4
---
Training:
Critical Mass: Supersets for Supersize Increases
EMG Exercise Analysis: Lower Chest Exercises
Exercise of the Month: Hack Squats
Exercise Science: Calf Training
Fundamentals: Step by Step to Progress
Hardcore Training: Abbas Katami's Delts
High Intensity: Fantasy vs. Reality
Ironmind: Inner Vision, Outer Limits
Mass from the Past: Steve Reeves' Favorite Exercises and Techniques
Muscle Coach:
Natural Chest Training:
Only the Strong Shall Survive: Do not neglect the small muscle groups.
Scientific Bodybuilding, Part 4: Endocrine Pulse Training: The Muscles sensitivity to testosterone and how to enhance it in the gym.
Sportsmedicine: Hammer Curls
Training Tempo: 10 Day Crash Course
Upside Down Bodybuilding: Mailbag, Part 2
Nutrition:
Cell Volumizing
Calcium
Preworkout Meals
Soup Up Your Physique
Superfeature:
Power Bodybuilding: It's sweatshirt weather and that means you can ease up on your reduced-calorie diet and focus on building rock solid size. We have just the strategy: Add some powerlifting to your bodybuilding workouts for a kick-ass mass blast.
Insight, Profiles & Contests:
NPC Nationals
Carol Semple-Marzetta
Dan Duchaine
Arne List
Survey
Departments:
Body Gourmet: East Meets West
Editorial: by John Balik
Hot Shots: Special Swimsuit Edition
Interactive Bodybuilding
Marketplace / Main Events
News & Views by Lonnie Teper
Nutrition Science:
Point Counterpoint: Awesome vs. Aesthetic
Pump & Circumstances: Fitness News
Reader's Write: Letters to the editor
Reviews: Mike Metzer's High Intensity