January 1998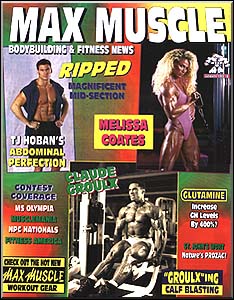 Max Muscle has over 38 stores in the United States and this is their successful small publication, given to Max Muscle shoppers. It contains misc information on contests, news, and the happenings in the Max Muscle bodybuilding and fitness world.


---
January 1998 Table of Contents
Issue #8
---
FEATURES
MELISSA COATES
Balance and Harmony
CLAUDE GROULX
Calf Blasting
St. JOHNS WORT

STANDARDS
PUBLISHERS POINT
Joe Wells Explains
MAX MAIL
Special delivery from readers
INSPIRATION and MOTIVATION
Max Muscle Success Stories
MAXIMUM OVERHEARD
The scoop on What's Happening?
ULTIMATE ABS
TJ Hoban's Tips for a ripped mid-section.
FITNESS DIRECTORY
The phone book of the industry
CLASSIFIED
CORPORATE and WORLDWIDE NEWS
Updates and info on Max Muscle
SUPPLEMENT WATCHDOG
Glutamine

CONTESTS
FITNESS AMERICA
MUSCLE MANIA
MS. OLYMPIA
NPC NATURAL COLORADO
NPC NATIONALS