---
Men's Fitness Magazine

For more information, call (800) 998-0731
---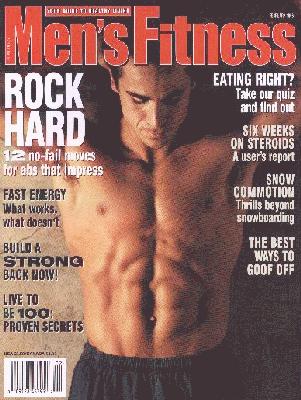 February 1996 Men's Fitness features the third annual Sex Special Section, with interesting articles like find out why guys like to pay for it, etc. Also, there are articles on how to live longer, sports adventures, nutrition articles, and much more. This magazine is more for the fitness person, not the bodybuilder. The model on the cover is Abs & Chest of Steel's Michael Perron.
---
Men's Fitness is dedicated to the man who likes to stay in shape. Contains articles on training, health, nutrition, and sports related recreation. This magazine is for the man who keeps in shape and likes to read about fitness related adventures and articles.


---
Table of Contents - February 1996 issue
---
Fitness & Exercise
Trapezius Artist: Work this muscle to sculpt a strong, injury-proof upper back.
Training Extra: Bracing up for ski season, lacing up to protect your ankles.
Success Story: Grappling with a weight program, a former wrestler returns to the mat.
Juice Master: Think about using steroids?
Honest Abs: A 12 step program for a top of the line midsection
Gear
To Dry For: New high tech light hiking footwear that gives water the boot.
Health
Danger: Men Working: On the job injuries and death are rampant. What you need to avoid it?
Health Extra: Flu vaccine verdict, over the counter nicotine gum, over the phone hearing test, and more.
Live Long & Prosper: Safe proven ways to ensure a long, healthy life.
Appearance
How to: Fold clothes like a pro
Retro Fitness: From skates to shoes, bikes to workout clothes.
Behavior & Sexuality
Play As You Go: How to Stop working at leisure and start goofing off the right way
She's Gotta Have It: What does a woman want most for Valentine's Day.
The Artful Dodger: Some debts collectors will try anything to get to you! How to protect your rights!
Food & Nutrition
Energize! Do ergogenic aids, like creatine phosphate and baking soda, really work?
Nutrition Extra: Getting extra nutrients from your veggies and more, keeping tabs on flab, putting out the chili pepper fire.
Food for Thought: Do you have what it takes to eat the Men's Fitness way. Take our test and find out.
Sports, Travel & Adventure
Snow Motion: Six ways to have fun on the white stuff
Sports Pages: Adventures on a frozen lake, how music affects you workout, when to make you move in any sport or athletic event, ways to avoid painful groin pulls.
Just Deserts: What better time than winter to enjoy the desert? Six of the best ways to climb, hike, and camp.
Bonus Section
Sex Now! The third annual Sex Special Section.
Learn the secrets of intimate massage
Get online with cyberspace dating
Learn from the disasters of Valentine's Day past
Enjoy a perfect fit with your lover
Find out why guys like to pay for it.
Explore the appeal of risky sex
See how you compare with the results of our first ever sex survey.
---