---
Men's Fitness Magazine

For more information, call (800) 998-0731
---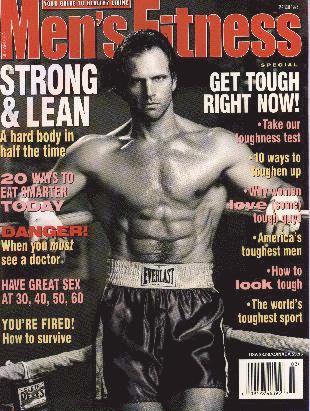 March 1996 Men's Fitness features a lock into Toughness, including ways to toughen up, why women love tough guys, how to look tough, world's toughest sport, a toughness test, and America's toughest men. Also, many other articles including how to survive if your fired, and when must you see a doctor. This magazine is more for the fitness person, not the bodybuilder. The model on the cover is Doug Larson.
---
Men's Fitness is dedicated to the man who likes to stay in shape. Contains articles on training, health, nutrition, and sports related recreation. This magazine is for the man who keeps in shape and likes to read about fitness related adventures and articles.


---
Table of Contents - March 1996 issue
---
Fitness & Exercise
Thighs With Size: For stronger legs, try these three proven quadriceps blasters.
Shoot Force: Even if you've never heard of shootfighting, training for it anyway: It will give you a killer workout.
Training Extra: Tips on workout pain relief, proper running form, helmet fit and more.
Success Story: For reader Keven Williams, 10 years of fitness is only the start.
Tough Guide: Hard Times: It takes true grit to complete the Basic 10 total body workout.
Tough Guide: Tough Stuff: Sports gear that can take a licking an keep on kicking.
Appearance
Conan the Librarian: A bookish fellow plays tough guy for a day. You got a problem with that?
Health
Making Sense of Symptoms: Is that tightness in your chest just a cold, or is it the beginning of a heart attack? How to know when to take aches, lumps and twinges seriously.
Health Extra: What's up with premature ejaculation, why being down in the dumps can affect your health, a green light for eating at night and more.
Food & Nutrition
Smart Bites: Forget the fads, controversies and breakthroughs, and focus on these 20 proven principles of sensible eating?
Nutrition Extra: A simple way to judge vitamins, a no fail formula for figuring your fat intake, a secret tip for snappier salsa and more.
Behavior & Sexuality
Is Tough Sexy? Why women prefer their men the right kind of rough and tumble.
The Uncompetitive Advantage: When you have to win at everything you do, what you'll lose is your friends.
Mind Extra: Why to acknowledge your flaws, when to fake a call to yourself, how to improve your love life and more.
Shifting Gear: Toys are us. Can a man ever have enough?
Tough Guide: Necessary Toughness: Want to be more heavy duty in you day to day life? Therapists and sports psychologists offer real world tips.
Tough Guide: Men of Steel: Men's Fitness Top 10 toughest hewn guys.
Tough Guide: How Tough Are You? Take our toughness test (but don't take it too seriously).
Fire Drill: In a world of layoffs, downsizing and 'rightsizing', it could happen to you. How to survive, even thrive, after losing your job?
Rock of Ages: Instead of marking the end of your sex life, getting older can make you a better lover!
Sports, Travel & Adventure
Tough Guide: Ball Breakers: The 10 toughest things to do in sports: and how to advice from insiders like Pete Sampras and Wayne Gretzky.
Tough Guide: World's Toughest Sport: Our exclusive formula, the formula, to determine the universe's most challenging game.
The Sports Pages: Picking on the pick and roll, keeping your team together, getting wet with underwater hockey, playing in a different (time) zone.
Big Land, Big Sky: Travel to Montana's Glacier Country and discover a treasure trove of outdoor fun.
---