---
Men's Fitness Magazine

For more information, call (800) 998-0731
---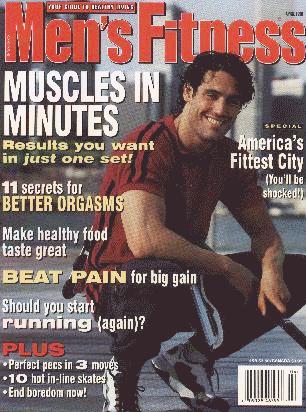 The April issue has articles on America's Fittest City (can you believe it is New York!), 11 secrets for a better orgasm, how to beat pain for the big pain, and more. The model on the cover is Chris John.
---
Men's Fitness is dedicated to the man who likes to stay in shape. Contains articles on training, health, nutrition, and sports related recreation. This magazine is for the man who keeps in shape and likes to read about fitness related adventures and articles.


---
Table of Contents - April 1996
---
Fitness & Exercise
Home Workout: Our cheap, effective five minute warm up will get you ready for anything.
Pec Man: For a chest you'll treasure, try these three simple moves.
Everybody Hurts: Pain means your body's trying to tell you something. Here's how to listen to the message.
Training Extra: Work out with your mate, save your ankles, get the most from calorie burning sessions and more.
Success Story: Exercise gives a 317 pound real estate agent a new lease on life.
Health
Don't Feel the Burn: It's easier than ever to give heartburn the cold shoulder.
Health Extra: Slippery news about back traction, pressing info on coffee and cholesterol, how sugar can sweeten your thinking and more.
Town or Country? Tips for staying well, no matter where you live.
Special Report: America's Fittest City
New York, New York: The city of fast living has taken to hard training.
New York Minutes: Selected glances at the history of fitness in the Big Apple
One Set Wonder: Manhattan trainer David Barton shows you how to do a perfect set, and that's all you'll need to do.
The Urban Jungle Gym: Opportunities for kayaking, rock climbing, mountain biking and other outdoor wonders in New York City or within a stone's throw.
Food & Nutrition
Taste the Difference: How to make all those bland or bad tasting 'duty' foods sing.
Nutrition Extra: Make your own low fat cheese. chip away at fat laden snacks, clam up your carbos and more.
High Tech Tonics: Meals in a pill, nuclear chickens, prepeeled oranges - are the latest developments in food technology actually good for you?
Behavior & Sexuality
Build a Better Orgasm: Eleven way to have a more powerful sex (no power tools required).
Chairman of the Board: Has life been a bit repetitive, a bit boring lately. We have cures for the blahs.
Mind Extra: How to stop stress from hurting your health, why travel strains relationships, where to look for illness support and more.
Luck of the Draw: It takes a real man to lose when he's holding four aces.
In Your Dreams: A guide to interpreting your night visions and even making them work for you.
Easy Money: How to find a bank account in your best interest.
Sports & Gear
Wheels of Fortune: Get in line with our 10 pack of all around skates for all around skaters.
The Sports Pages: How to slide into base like a pro... be a beach volleyball bum,.. turn into a Wifflemaniac.
Appearance
Start Making Scents: With today's lighter cleaner colognes and aftershaves, less is more.
---