---
Men's Fitness Magazine

For more information, call (800) 998-0731
---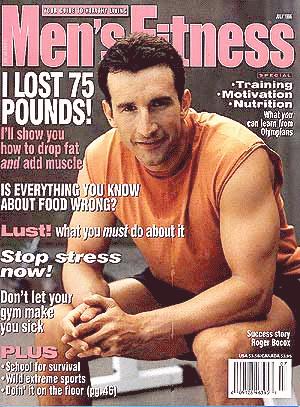 July's issue of Men's Fitness features a special Olympic section. Also featured are interesting articles which talk about ballroom dancing, colognes which may act like a sexual magnet, ways to keep your carnal desires from embarrassing you, and how to survive in the wilds with nothing but water, blanket, and a knife. The model on the cover is Roger Bocox.
---
Men's Fitness is dedicated to the man who likes to stay in shape. Contains articles on training, health, nutrition, and sports related recreation. This magazine is for the man who keeps in shape and likes to read about fitness related adventures and articles.



---
July 1996 Table of Contents
---
Fitness & Exercise
Tuning Your Strings: Just because you can't see your hamstring muscles doesn't mean they won't make their presence known.
Ballroom Blitz: Snicker if you want, but ballroom dancing is one of the best workouts around (it's even gone Olympic). Oh, and it doesn't hurt your prospects, either.
Training Extra: How to safeguard your bones, tend an injury, push beyond the last rep and more.
Success Story: This reader dropped almost 100 pounds in a year, and he says it was even easier than he expected.
Fat Furnace: Once so heavy he had trouble tying his shoes, trainer Roger Bocox learned how to turn his body into a fat burning machine.
Gear & Appearance
Scents for a Women: Can phermomone based colognes act like a sexual magnet?
Wet Dreams: With any of these water riding boards, there's no way you'll be bored this summer.
Health
Cootie Patrol: Stop your gym from giving you the creepy crawlies
Health Extra: Combat cluster headaches, halt the hiccups, tame your tobacco habit and more.
Stressed Out? Stress is everywhere, and it's putting your health at risk. Fight back with our self test and coping strategies.
Breaking the Age Barrier: How pros and Olympians stay in shape through the years.
Special Olympic Section: Going For The Gold
Ghost of the Machine: we have the same training knowledge (and the same drugs) as the former East Bloc countries. So how come they still kick our butts in so many sports?
Eating to Win: The toothsome wisdom of Olympic athletes and their sports nutritionists can help you eat like a champion.
Mind Games: Beyond Training and nutrition, it's mental tricks and motivating strategies that separate winners from losers.
Food & Nutrition
Zone Defense: The idea that eating more fat and protein and less carbohydrates might help you lose weight and stay healthy isn't going away. Should you give it a try?
Nutrition Extra: Low fat chocolate bars, mail order salsas, heart helping nutrients and more.
Behavior & Sexuality
Land of the Lust: Ways to keep your carnal desires from embarrassing you... or worse?
Time for a Change? In a world in which the only constant is change, it's adapt or die.
Mind Extra: Claustrophobia lickers, divorce kickers, a hound for your ticker and more.
Our Dirty Little Secret: Men gossip as much as women, so why not do it right? How to surf the real Information Superhighway.
Home Economics: A man's house doesn't have to be his hassle. Our guide to earning a living from the spare bedroom.
Sports, Travel & Adventure
Something Wicket This Way Comes: Cricket is the world's second most popular game. Our man plays for the first time to learn what the fuss is all about.
Camp from Hell: Learn how to survive in the wilds with nothing more than a water bottle, a blanket and a knife. What, no cable TV?
Extreme Close Ups: Adrenaline junkies doesn't begin to describe these guys.
Sports Pages: Don't just watch the Olympics: Join the games (Some of the lesser known ones, that is)
Fine Country: In California's Napa Valley, you'll be too busy having fun biking and hiking to whine.
---