---
Men's Fitness Magazine

For more information, call (800) 998-0731
---
August 1996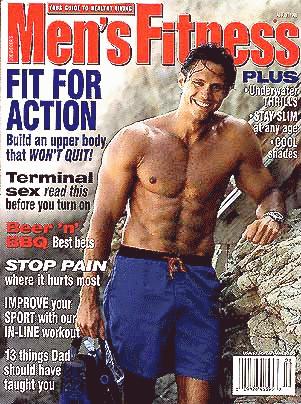 With even the August issue of Men's Fitness talking about cybersex, and the effects of chatting on-line on single men, everyone is talking about the Internet. This month has a special section on the Guide to Basic Weight Training. Other interesting articles include 13 life skills you gotta have, Information on beers and lagers, a story on in-line skating. The model on the cover is Tim Hertzog.
Men's Fitness is dedicated to the man who likes to stay in shape. Contains articles on training, health, nutrition, and sports related recreation. This magazine is for the man who keeps in shape and likes to read about fitness related adventures and articles.
---
August 1996 Table of Contents
---
Fitness & Exercise
Lats Dance: Sculpt a tapered back with these V-shaping moves.
Skate Keys: In-Line skating is the perfect workout for surfers, tennis players, NHL star Mike Modano and you.
Training Extra: The right number of sets, a way to prevent climbing injuries, an exercise routine you'll stick with and more.
Success Story: Once a pudgy onlooker, this reader set his sights on completing a triathlon - and turned himself into an iron man.
Hell on Wheels: Working from a wheelchair, personal trainer Jon Franks guides you through the upper body exercise routine of your life.
Health
Guarding your Gearshift: How to keep bike rides from ruining your sex life forever.
Health Extra: Mediate for a healthier heart, get your beta-glucan, burn calories by fidgeting and more.
Gut Reactions: Most guys would rather not think about their digestive system - until trouble hits, that is.
Waisted Years: Call it middle age spread, call it a spare tire, call it love handles... but don't call it inevitable.
Special Section
The Men's Fitness Guide to Basic Weight Training: Everything you need to know about starting, sticking with and getting the most out of a resistance training program.
Gear & Appearance
Cutting Edges: We tested the newest razors to help you get your best shave ever.
Shady Characters: The latest, greatest sunglasses are cool, comfortable and lifesavers for your eyes.
Food & Nutrition
Hail to the Chefs: Have a presidential barbecue in your own back yard with recipes straight from the White House
Nutrition Extra: Weight loss devices that don't work, eggs you shouldn't eat. a snack you should consider and more.
Lager Heads: From why American beer tastes the way it does to what dry, since, red and porter mean, everything there is to know about suds.
Behavior & Sexuality
Terminal Sex: Some say it's cheating. Others say it's harmless fun. Online sex and the unsingle man.
The Commitments: For many men, tying the know is like tying a noose.
Can Do! 13 life skills you gotta have.
Screen Savers: Is banking by PC really going to make life better?
Sports, Adventure & Travel
Diver's Ed: For way over your head adventures, plunge into the undersea world of scuba.
The Sports Pages: Check out the best, and worst, sports movies of all time, and stop in at red hot sports bars in eight cities.
Long Hauls: Whatever you are looking for, you'll find it on one of America's three longest wilderness trails.
Travel Extra: Create your own comfort class, ship your bike free, stop yourself from sleeping at the wheel and more.
---