---
Men's Fitness Magazine

For more information, call (800) 998-0731
---
September 1996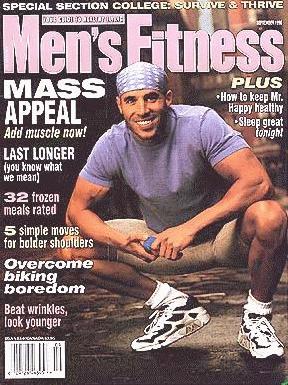 Among it's many great articles, September's Men's Fitness features a special section entitled 'College Now', with interesting articles, on sleeping with pigs, and strengthening your power & speed. The model on the cover is Michael Pape.
Men's Fitness is dedicated to the man who likes to stay in shape. It contains articles on training, health, nutrition, and sports related recreation. This magazine is for the man who keeps in shape and likes to read about fitness related adventures and articles.
---
Table of Contents - September 1996 issue
---
Fitness & Exercise
Home Workout: Injury proof your shoulders with this do anywhere routine.
Win One for the Gripped: Whether you swing a bat, club or racket, bigger firearms get bigger results.
Slow Going: Is Super Slow weight training the fastest way to build your muscles?
Training Extra: More from each lift, homemade sports drinks, running breaks and more.
Success Story: The reader lost the equivalent of his best friend in fat, and he doesn't feel a bit bad about it.
Physical Education: UCLA strength coach Phil Frye schools elite athletes every day. You could learn from him, too.
Appearance
The Prince and the Pauper: Can you tell our identical twins apart after their 'Rick Man, Poor Man' makeovers?
Face Age Wonders: Rough and grizzled bad, Fresh and smooth good. How to keep your face young and wrinkle free.
Health
Awakening the Senses: Even lights and sounds you don't notice can keep you awake. How to get a good night's sleep.
Health Extra: Drink away kidney stones, soothe surgery scars, prevent tattoo infections and more.
Peter Principles: What you must know about guarding your family jewels.
Longevity Extra: Lower your blood pressure, age guard your brain, stay potent and more.
Special Section: College Now!
The War Room: One bad roommate can ruin your whole stay.
The Sports Clinic is Open: Five college strength coaches givetips on building power, speed, leaping ability and more.
Sexual Disorientation: Think you might be gay? Expert advice on sorting out your identity.
Sleeping with Pigs: Wacky tales from student health services nationwide.
Higher Learning: Is it still cool to be a stoner? College drug use today.
Food & Nutrition
Frozen Assets: From Ziti Parmesano to Oriental Beef and Peppers, cold, hard facts about 32 low fat frozen meals.
Nutrition Extra: Win the weight loss war, tenderize tough meat, get more fiber and more.
Simple Pleasure: Just because you don't have a fully stocked kitchen doesn't give you an excuse not to cook.
Behavior & Sexuality
Hold Your Fire? Solutions for premature ejaculation that don't come a moment too soon.
How to quit Smoking in 5,000 easy Steps: Forget nicotine patches and pop-psych blather. Kick the habit like a man.
Job MisInformation Center: Does your college career center list openings for the Cleveland Browns and the DeLorean Motor Company. Here's the up to date 411.
Sports, Travel & Adventure
Technology: Invest Foolishly, check ball scores anywhere, create a PC based fitness program.
On the Chain Gang: Whether it's road biking, cyclo-cross or mountain bike polo, eight great ways to crank it up.
7 Easy Pieces: So you're ready for that mountain bike ride. We've got your helmet, pump and gloves. Ph, and we didn't forget the Slime, either.
The Sports Pages: Pool is cool: 10 skills you can bring to the table. Also, ways to reach your goaltending goals.
Boston Baked Scenes: So what if it's not a college town. Beantown's a great place to bike, hike, kayak and skate.
Travel Extra: Shoot down jet leg, do Hawaii cheap, safeguard your tickets and more.
---