---
Men's Fitness Magazine

For more information, call (800) 998-0731
---
November 1996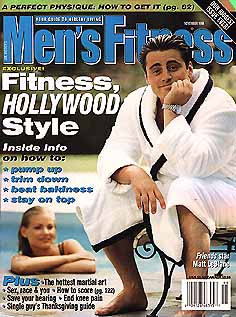 Matt LeBlanc (of Friend's TV Sitcom), and Gabrielle Tutie grace the cover of the November's Men's Fitness. A special section on Fitness in Hollywood, with articles on where the stars work out, to the nutrition of the stars, to how the stars train.
Men's Fitness is dedicated to the man who likes to stay in shape. It contains articles on training, health, nutrition, and sports related recreation. This magazine is for the man who keeps in shape and likes to read about fitness related adventures and articles.
---
November 1996 Table of Contents
---
Fitness & Exercise
Kneeful Things: A physical therapist's program to prevent and rehabilitate knee injuries.
Fit to Fight: Krav maga takes martial arts a step beyond mere self defense.
Training Extra: Skate for your life, lift weights to boost endurance, beat blisters and more.
Success Story: This rock hard comedian stood up to his weight problem and exited laughing.
Health
A Sound Thrashing: Besides ruining your hearing, noise can make you sick, irritable, even violent.
Health Extra: Shorten your cold, flex your feelings, expand your menus and more.
Prescription for a long life: Deepak Chopra demystified.
Longevity Extra: Heart attack and mood, testosterone and stroke, exercise and smoking and more.
Special Section: Fitness in Hollywood
Camera Ready: How soap opera star Steve Burton gets his body ready to be scrutinized by two million fans a day.
Trainer Spotting: We hang out behind the lens with famed photographer George Butler (Pumping Iron) as Hollywood's top trainers whip celebrity clients into shape.
The Hunkification of America: The movies got America into the gym. Where will they take us next?
The Celluloid Weight Room: The evolution of movie muscle, from Eugen Sandow's chest to Brad Pitt's abs.
Map to the Stars' Gyms: Up your chances of glimpsing the big boys (or girls) with this insider's guide.
Stellar Nutrition: How Hollywood diet gurus help turn ordinary bodies into leading men.
The Next Action Heroes: Watch out, Arnold, Steven and Jean-Claude.
Die Hard: No one faces more rejection than Hollywood hopefuls. Learn from them.
A Friend in Speed: At work or play, TV star Matt LeBlanc is on the fast track to success.
Food & Nutrition
Sides of the Season: These dishes will complement the turkey and get a single guy compliments, as well.
Nutrition Extra: Find hidden fat, thaw foods fast, decipher serving sizes and more.
Behavior & Sexuality
Culture Club: If you go in with open eyes and an open mind, an interracial relationship doesn't have to be a minefield.
Tales from the Crib: When a couple become parents, boring happens.
The Power Office: How to create a workspace that will impress your superiors and intimidate your underlings.
Sports, Adventure & Travel
The Sports Pages: Become a gridiron great with these insider tips from football pros.
Hawaiian Punch: From under the water to the tops of volcanos, big adventures on the big island.
Travel Extra: Ginger for motion sickness, the Web for travel tips, the pay phone for savings and more.
Gear & Appearance
Hollywood Hair: Male movie stars don't necessarily have more or better hair than you do. They just know what to do with it.
Cover Ups: Lightweight, high tech fabric jackets that keep you warm, dry and looking sharp.
In Every Issue
Publisher's Letter
Editor's Letter
Letters
Fit News
AIDS Watch
Ask our Experts
Buyer's Guides
Reader's Survey
Winners and Losers
---