---
Men's Fitness Magazine

For more information, call (800) 998-0731
---
December 1996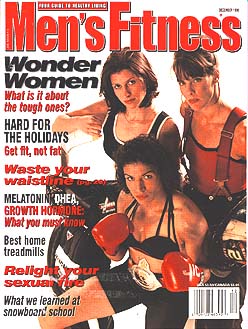 Tough Women is the special section featured in the December issue of Men's Fitness. Also, how to get fit for the holidays, and an article on some of the best ski resorts in America. The models on the covers are Lucia Rijker, Manon Rheaume, and Caroline Paul.
Men's Fitness is dedicated to the man who likes to stay in shape. It contains articles on training, health, nutrition, and sports related recreation. This magazine is for the man who keeps in shape and likes to read about fitness related adventures and articles.
---
December 1996 Table of Contents
---
Fitness & Exercise
Trudge Dread: Vary your treadmill routines, and you won't feel like a hamster on a wheel.
Fade to Black: For a tighter waistline, you've got to work your back. You read right.
The Detraining Effect: How much fitness do you lose when you stop working out, even briefly?
Training Extra: Lubricate creaky knees, train to stave off sports injuries, give foot pain the boot and more.
Success Story: This reader got in gear after hearing the seven words no guy wants to hear: "Hey. have you put on some weight?"
Hard for the Holidays: Trainer . chef Jim Shiebler shows you how to get fitter and prepare a low fat feast at the busiest time of year.
Tread Sprightly: The Treadmill is the king of exercise machines. Here are some models fit for your castle.
Health
The Cold War: When you've got a cold, you want a medicine that works. How to choose your pharmaceutical ammo.
Health Extra: An herb for the erection impaired, new help for migraine sufferers, upcoming treatment for herpes and more.
Health and Fitness Follies of 1996: Assorted blunders, boo-boos and questionable accomplishments from the past year.
Hormone Happy: Melatonin, DHEA, growth hormone, testosterone: What's real, and what's hype?
Longevity Extra: Heart disease reversed, sex drive revved up, secrets of a long life revealed and more.
Special Section: Tough Women
Tough Women: An Appreciation: Face to face with six women who could teach men a thing or two.
The Opposite Sex: Whether you win or lose, here's what you have to remember when competing with females.
Food & Nutrition
Can Fit be Fat? The surprising truth about being 'overweight' and being fit.
Nutrition Extra: Hunger that may be something else. a secret way to find hidden fat, an office machine that's hazardous to your diet, and more.
Behavior & Sexuality
Lust for Life: If the embers have cooled on your long term relationship, here's how to stoke the fire.
Full Volumes: Got problems? Sure you do. These books actually offer solutions.
Mind Extra: Ways to impress your mate, get the most out of therapy, rewrite your past and more.
Baby Got Backbone: You'll never know how tough a women can be until you watch her give birth... to an 8-pound, 12-ounce baby... without drugs... in an 83-plus hour ordeal.
Career Cheer: From handling the punch to handling a year end bonus, the holiday office's odd ritual demystified.
Gear & Appearance
Morning Juice: Get the buzz on the newest electric razors.
Toys of the Year: Stocking stuffers for guys who've been really, really good.
Sports & Travel
Super Flying! You can snowboard, sorta. Now it's time to get air and carve like Uncle Fred on a holiday bird!
The Sports Pages: 'Tis the season for big honking giant waves. Ride with daring surfers, get the scoop on a real life ocean lifeguard and more.
Steep Competition: From the deepest powder to the steepest verticals to the hottest nightlife, the best ski resorts on the continent.
Travel Extra: Drive confidently on ice, sleep soundly away from home, score a car rental upgrade free and more.
---