---
Men's Fitness Magazine

For more information, call (800) 998-0731
---
January 1997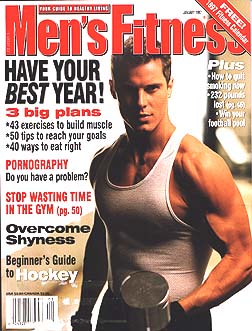 A new year begins and Men's Fitness has a lot of good articles, including how to overcome shyness, and do you have a problem with pornography. Other fitness articles include 43 exercises to build muscles, and 50 tips to reach your goals. The model on the cover is Bradly Tomberlin.
Men's Fitness is dedicated to the man who likes to stay in shape. It contains articles on training, health, nutrition, and sports related recreation. This magazine is for the man who keeps in shape and likes to read about fitness related adventures and articles.
---
January 1997 Table of Contents
---
Fitness & Exercise
Success Story: Sixteen restaurant staffers team up to make the weight of their kitchen sink.
Weightlifting Whoppers: Training lies and gym misconceptions exposed.
Training Extra: Drink calories away, stay on the stairclimber, end swimming pain and more.
New You '97: Have your best year ever with our biggest workout ever! It's 15 pages, 43 exercises plus power yoga, boxing and kicking - everything you need for the body you want.
Man of Action: A Men's Fitness editor starts following his own advice.
Health
Quitting Time: Make this the first smoke free year of the rest of your life.
Health Extra: A spicy way to prevent cancer, an office machine to avoid, what not to do for a nosebleed and more.
Special Report: The Unhealthy American: We should be the healthiest nation on earth. So what happened?
Adjusting your genes: Genetic testing can predict your future health. But do you really want to know?
Longevity Extra: A fruitful way to prevent stroke, cholesterol drug surprise, the most likely day for a heart attack and more.
The 1996 Index
The 1996 Men's Fitness Article Index: Your guide to a year's worth of fitness, health, nutrition, sex, sports and more.
Food & Nutrition
The Taste of Things to come: Near future foods, arriving soon.
Nutrition Extra: Why size matters, what you should do in the dark, how to stop spuds from sprouting and more.
Meal Alignment: From upping your fiber to cutting the fat, 40 easy to swallow dollops of dietary dos and don't.
Behavior & Sexuality
Shy Anxiety: Being shy doesn't make you a loser, but it can make you lose opportunities. How to overcome this surprisingly common problem.
Mind Extra: Combat depression, remember forgotten details, outsmart advertisers and more.
Babe Watch: Has your pornography habit gotten out of hand?
Higher Resolutions: How to keep your New Year's promises better than Attila the Hun did.
The Art of Motivation Maintenance: When resolve falters ,try these tactics to reach your goals.
Gear & Appearance
How Gear for Cold Days: High tech meets high fashion, just in time for the chill of winter.
Giant Steps: Snowshoeing is great fun and great exercise. Now a new generation of sport shoes makes it easier than ever.
Sports & Travel
Hooked! Hockey is the hottest sport on ice. We'll show you how to play your face off.
The Sports Pages: Walk on water (the frozen kind). Plus: Hitch a thrilling ride on a Olympic bobsled trial.
Bigfoot was here: Make like the mythical mountain man at these snowshoeing destinations.
Travel Extra: Cycling the Great Divide, a shrine for baseball fans, volunteer travel and more.
---