---
Men's Fitness Magazine

For more information, call (800) 998-0731
---
February 1997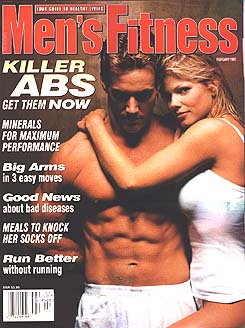 Men's Fitness fourth annual special sex section is the highlight of this month's magazine, from tips on meeting women to the secrets of seduction. Other interesting articles include how minerals play a crucial role in building strong muscles, and running without running. The models on the cover are Doug Doupe and Donna D'Errico.
Men's Fitness is dedicated to the man who likes to stay in shape. It contains articles on training, health, nutrition, and sports related recreation. This magazine is for the man who keeps in shape and likes to read about fitness related adventures and articles.
---
February 1997 - Table of Contents
---
Fitness & Exercise:
Strike a Pose: Martial arts moves for kick ass legs and glutes.
Tri Freedom: Exercises that unleash your triceps from the shackles of boring workouts.
Run... Without Running: This gym regimen features all the benefits of running, without the bad weather and endless injuries.
Training Extra: Boost your endurance, choose the right shoes, shed the weight and more...
Success Story: Losing 140 pounds in just over a year turned this neat PhD into Dr. Feelgood.
Ab Solution: Abs are everywhere, except maybe, on your physique. Here are no fad, guaranteed ways to get them.
Health:
Doctor Yes: Advice from Michael Oppenheim, MD, on choosing the right physician - before you need one.
Health Extra: Guard against stomach ulcers, avoid E. coli, prevent choking and more...
The Coming Cures: Science may be getting the upper hand against the diseases you fear most.
Bonus Section:
The guide to great sex! Our fourth annual special sex section will help you find, and keep - The One. Get tips on meeting women... navigate the personals... learn the secrets of seduction... create a storybook romance... light a fire in the bedroom.
Food & Nutrition:
Nutritional Gems: Minerals lay a crucial role in building strong muscles and bones. Are you getting enough?
Nutrition Extra: Foods that protect vision improve memory, thwart fat and more...
Romancing the Stove: This Valentine's Day, stay in the kitchen and turn up the heat.
Behavior & Career:
Slammer Time: A few hours in jail can bring out strange things in a man.
Pitch Perfect: You've got a million dollar idea, but will the boss go for it? He/She will if you organize your thoughts and present them effectively.
Appearance:
Oral Fixation: If your teeth are less than movie star perfect, new dental techniques can give you something to smile about.
Sports, Adventure & Travel:
The Ax Files: Think lumberjacks are pancake gorging, beer swelling, boorish hulks? You won't after you meet David Jewett, champion chopper.
The Sports Pages: Get on track with a sport that's part speed skating, part roller derby. plus: an insider's look at snowboard parks.
Unlocking the Keys: This chain of tropical islands proves Florida has more than one magic kingdom.
Travel Extra: Discover online adventures, cavort in a winter wonderland, beat lodging crunches and more...
---