---
Men's Fitness Magazine

For more information, call (800) 998-0731
---
March 1997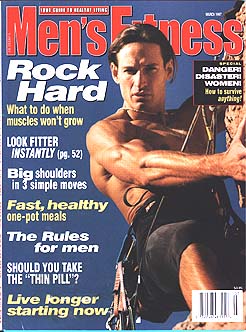 The March issue has a special Men's A to Z survival guide, which items of dangers on 10 packed pages. Other articles include a guide for navigating relationships, a tough workout at 'Boot Camp' and ultrarunning.
Men's Fitness is dedicated to the man who likes to stay in shape. It contains articles on training, health, nutrition, and sports related recreation. This magazine is for the man who keeps in shape and likes to read about fitness related adventures and articles.
---
March 1997 - Table of Contents
---
Fitness & Exercise:
A Gonzo Morning: Get your day off to a rousing start with an effective a.m. workout.
Delt Force: To grow big safely, your shoulders need tender loving care. Treat them right with these exercises.
Camp'N'Crunch: For the toughest workout around, check out Boot Camp class. now drop and give us 20!
Training Extra: When music can slow you down, new findings on nasal strips, beating exercise induced asthma and more...
Success Story: After a near fatal accident 11 years old, Cliff Meidl wasn't sure whether he'd walk again. Now he is an Olympic athlete.
It Don't Come Easy: You spend hours in the gym, but where are the results? A fellow 'hardgainer' shows you how to get more muscle for your labor.
Health:
One Pill Make you Small: Are Redux and feb-phen dangerous drugs or the right ways to lose weight?
Health Extra: Buffered aspirins revisited, new cold remedy approved, running far vs. fast compared and more...
Water Works: To stay fit and healthy, you probably need to drink more. Are you getting enough water, and how can you be sure it's safe?
Age Like a Women: Why women usually outlive men, and ways to narrow the gap - starting today.
Longevity Extra: Preventing prostate cancer, eating for lower blood pressure, detecting 'silent' heart attacks and more.
Bonus Section:
Special: A to Z Survival Guide: Men flirt with danger all the time. We want you to laugh at it. Our 10 page guide tackles just about everything that might come your way, from hungry bears to hostile in laws, and shows you how to escape without a scratch.
Food & Nutrition:
Fear of Fish: Afraid mercury and other toxins will cancel out the health benefits? Conquer your fish phobia with our guide to safe seafood.
Nutrition Extra: Diversify a meatless menu, bake with less fat, avoid killer peanut butter and more.
Under Pressure: This is not your grandmother's pressure cooker. prepare fast, nutritious meals - without lid-popping explosions.
Behavior & Career:
The Rules for Men: Women swear by the Rules, the best selling dating manifesto. Here, a man's guide to navigating relationship twists and turns.
Good Grief: Myths about recovering from a loss can make it tough to cope. Tips to put the pain behind you.
Mind Extra: Why unhappy offices can be a boss' dream, smoking can encourage drinking, depression can be expensive and more.
Street Fighting Man: The author tussles with the back alley thugs, and with his role as a man.
Toys in the Attic: Your dusty relics might be worth a fortune - or maybe not. We rummage through the volatile collectibles market and help you get into the game.
Financial Extra: Sure fire investment, banking cost cutter, valuable financial guide and more...
Appearance:
Slim Pickins: The right clothes can make a beer gut or chunky butt vanish. Check out our tips on dressing thin.
Sports, Adventure & Travel:
Marathons are for Whimps: Being chased by bloodthirsty Spartans for 26 miles is nothing compared to ultrarunning.
The Sports Pages: From windsurfing to skiing to cycling, the world's most challenging athletic contests give new meaning to the word endurance.
Backcountry Club: Aspen in the spring? Virgin snow awaits ambitious skiers willing to stray from the beaten slopes.
Travel Extra: Locate a gym anywhere, guard against crime, discover top trail towns and more...
---