---
Men's Fitness Magazine

For more information, call (800) 998-0731
---
May 1997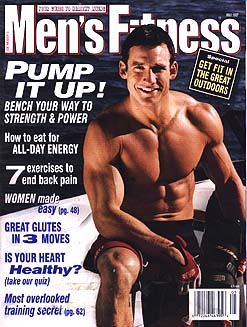 The May issue has a special 'Outdoor' section for the fitness buffs, including the top five outdoor destinations that offer activity under the sun. The model on the cover is Russell Brown.
Men's Fitness is dedicated to the man who likes to stay in shape. It contains articles on training, health, nutrition, and sports related recreation. This magazine is for the man who keeps in shape and likes to read about fitness related adventures and articles.
---
May 1997 - Table of Contents
Volume 13, Number 5
---
Fitness & Exercise:
Back on the Road: Ease lower back pain with seven simple exercises you can do anywhere.
A Better Behind: Three moves to develop your glutes and raise your butt-esteem.
Flexible You: Just a few minutes of stretching can make a huge difference in your workouts.
Training Extra: The ideal training program, the best running surfaces, new findings on ab devices and more...
Success Story: After a scary cholesterol test, a Southern chaplain to be turns the other cheek to ham hocks and drops 80 pounds.
One Rep Max: How much can you bench? The answer is one timeless measure of a man.
Benchmark: The rail-thin marathoner explains how he lifted 200 pounds - and why hitting the mark was so satisfying.
Singular Sensation: A top trainer offers tips on putting up the big one in the bench press.
Health:
Pain Relief Made Painless: Before you pop a pill, read this.
Health extra: Prevent basketball injuries, avoid sperm damage, conquer impotence and more...
Priming the Pump: Your most important muscle requires attention earlier than you might think. How to keep your healthy.
Shelf Life: We found six non-bogus books on living longer.
Longevity Extra: Sip to your health, fight cancer with grapes, keep your mind fit and more.
Special: The Great Outdoors:
Get Out!: Five top outdoor destinations that offer every activity under the sun.
Into the Woods: Find out how nature can cleanse your mind and ease your soul.
Are We Losing Our Places to Play? Precious natural playgrounds are vanishing. What you can do about it.
Food & Nutrition:
The Oil Market: Tips on pickings the right oil for your meal and your health.
Nutrition Extra: Savory poultry flavor, diets you should avoid, a sweet baking secret and more...
Fast Fuel: Fix a high energy breakfast in less than five minutes.
Behavior & Finance:
Code Warriors: A dialogue with the two brave men who put the male dating code in writing.
To Tell the Truth: From little white lies to big ol' whoppers, how does dishonesty - including your own - affect your life?
Mind Extra: How depression can hurt your heart, why you should seek solace online, an unlikely place to find addiction help and more...
Night Games: An insomniac reveals what really goes on after the midnight oil burns out.
Mutual Friends: The mysterious world of mutual fund investing demystified.
Financial Extra: Keep creditors at bay, gain investment savvy, score luxury items for a song and more...
Appearance:
A Shorts Story: Sleek new swimwear styles render skimpy suits and puffy trunks obsolete.
Sun Screeners: Protect your eyes with shades tough enough for any sport.
Sports & Adventure:
Numbers in Strength: Thanks to a rigorous workout program, Colorado Rockies second baseman Eric Young shook the underachiever label and become an All-Stat.
The Sports Pages: Speed, strength, agility: They're all part of the ultimate game. Plus: Strike a balance with performance enhancing exercises.
In Every Issue:
Editor's Letter
Publisher's Letter
Letters
Fit News
AIDS Watch
Ask our Experts
Buyer's Guide
The End Zone
---