---
Men's Fitness Magazine

For more information, call (800) 998-0731
---
June 1997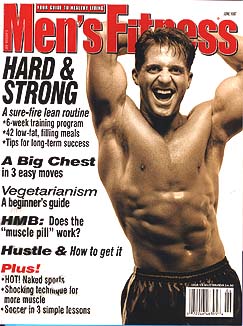 The special section this month is the Meltdown section, an area where advice to lose weight and become thin is the main story. Here they have exercise programs and a weight loss program to get to where you want to be. The model on the cover is Matt Workman.
Men's Fitness is dedicated to the man who likes to stay in shape. It contains articles on training, health, nutrition, and sports related recreation. This magazine is for the man who keeps in shape and likes to read about fitness related adventures and articles.
---
June 1997 - Table of Contents
Volume 13, Number 6
---
Fitness & Exercise:
Jump Higher: Increase your vertical leap with our plyometric - exercise program.
Build Bigger Pecs: For real size increases, you've got to hit your chest from every angle.
Triathlon Training Tips: Keys to meeting a serious athletic challenge.
Training Extra: Strengthen your grip, avoid facial wrinkles, what not to take before a workout and more.
Success Story: This sales manager thought his widening waistline was inevitable and natural. Then he met Dolly Parton...
Make Stubborn Muscles Grow: Sometimes lagging muscle groups just need a little shock treatment.
Health:
HMB: Muscle Enhancer or Hype? What you must know about this controversial growth supplement.
Health Extra: Juice / drug interactions, in-flight ear pain tip, urban skin alert and more.
Bunny Testicles and Doggy Tongues: Some folk remedies are strange, some are silly - and some actually work.
Live Longer by Hanging Out: How friends family and community can make you healthier and happier.
Longevity Extra: Predict prostate trouble early, reverse artery damage, sleep to remember and more.
Special: Meltdown:
East to Lose: Stick to our customized weight loss program and watch the pounds melt away.
Can't Miss Menu: Our two week eating guide will teach you all the basics of a better diet.
Work it Off: You'll see the results of this exercise program, designed to get you lean and muscular = and keep you that way.
Thinking Thin: Mentally committing yourself to a healthier lifestyle is half the battle. How to fight successfully.
Food & Nutrition:
Become a Vegetarian in 3 Easy Steps: The painless way to meatless eating.
Nutrition Extra: A cool summer treat, a magical seed, a supermarket secret and more.
Gear & Appearance:
Cool Sports Sandals: Wear these, and your feet will thank you.
Socks for Every Game: Could the right pair help you turn it up an extra notch?
Behavior & Sexuality:
Sex in the Suburbs: Free spirits are swapping sexual partners and organizing orgies - even in your own backyard.
Born to be Wild? Your place in your family might strongly influence your personality.
Mind Extra: Why confidence breeds success, procrastination can make you sick, drinking can deepen depression and more.
Dad Influence: Like it or not, you can't escape the bond between you and your father.
Hustle and How to get it: What you need to excel - in every area of your life.
You're the Boss: Suddenly, you're in charge. How to go from underling to manager.
Sport, Adventure & Travel:
Goooooooaaa! Soccer superstars Eric Wynalda and Alexi Lalas share expert advice.
The Sports Pages: Four windsurfing essentials for smooth sailing. Plus: Naked sports exposed, and how to get rhythm.
L.A., the Year=Round Playground: If all you wanna do is have some fun, check out the best sporting spots in the ultimate outdoor city.
Travel Extra: Sail with Crew USA, book a bargain vacation, find great stress escapes and more.
In Every Issue:
Editor's Letter
Publisher's Letter
Letters
Fit News
AIDS Watch
Ask our Experts
Buyer's Guide
The End Zone
---